Natsuko Minegishi
Jewelry designer
Photos by Tomo Kosuga
Text by Tomo Kosuga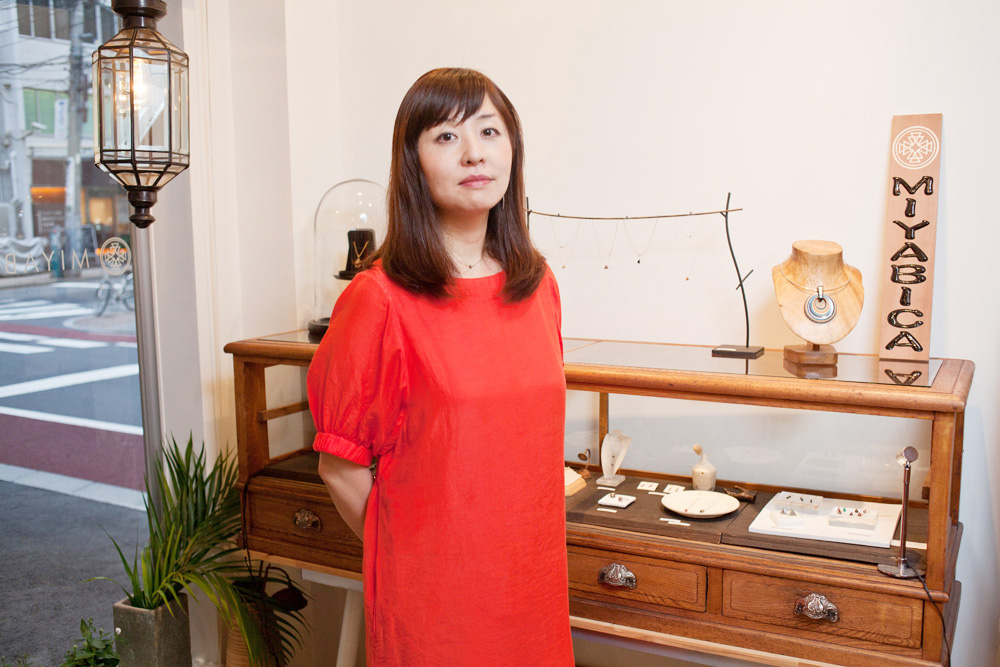 "Soul of Takumi" is an interview series featuring master craftsmen from across Japan. In this second installment, we speak to Natsuko Minegishi who runs MIYABICA, a brand specializing in urushi-lacquered jewelry.
Urushi lacquer is typically used as a glossy coating to finish traditional ornaments, utensils and other lacquerware. So it may come as a surprise to hear that there's a lacquer technique that allows artisans to create items out of multiple layers of urushi lacquer alone.
The technique is called tsuishitsu, and entails 200 to 300 coats of urushi lacquer being layered on top of one another to create an urushi sheet (which are at times stacked together to make it thicker), out of which shapes are carved out.
Since the lacquer needs time to dry, only a single coat can be applied per day. This means that for an item requiring 100 coats, it take at least 100 days just to create the tsuishitsu sheet itself, which will typically only be around 3 millimeters thick.
It's a lengthy process that requires patience, but for Natsuko, this is the centerpiece of her delicate jewelry designs.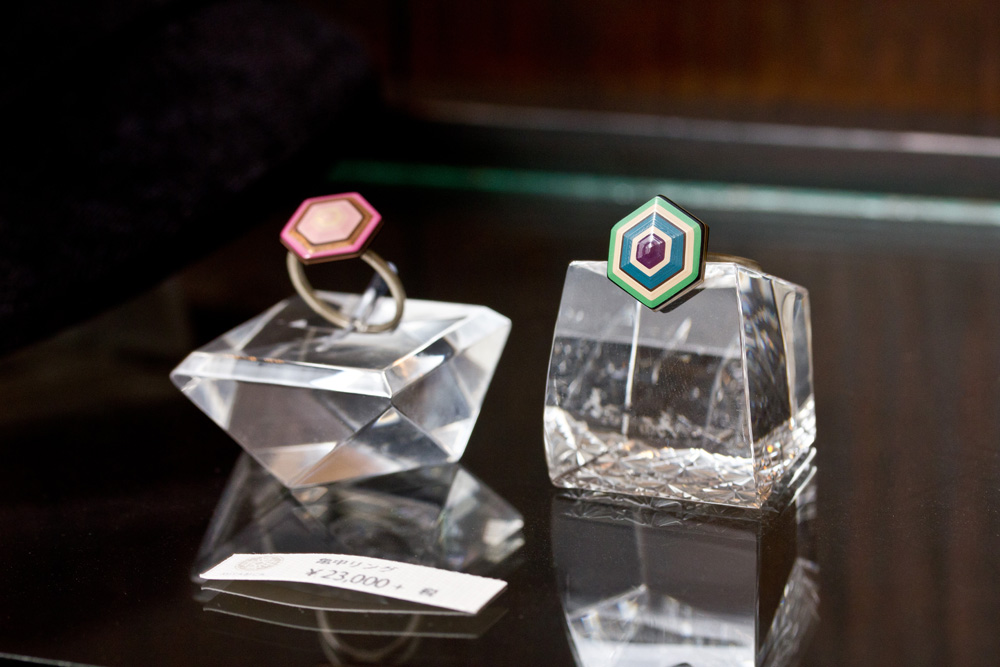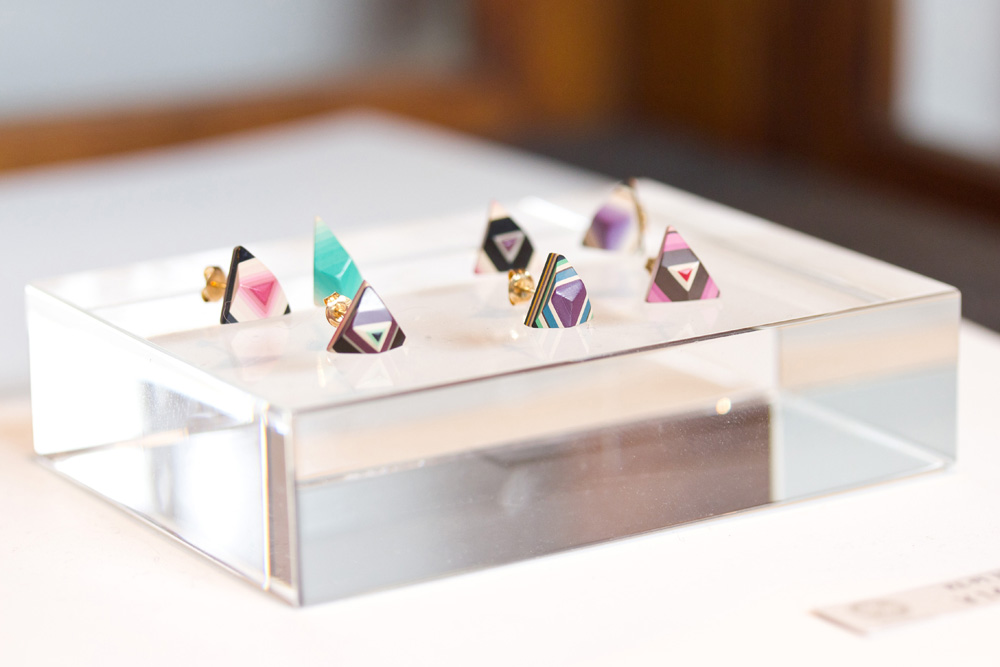 Natsuko first encountered urushi in one of her university classes, and was immediately drawn to its beauty while seeing potential in the material's expressiveness and rich variety of hues. After graduating, she moved to Kagawa Prefecture to study the specialized skills of urushi lacquer at the Urushi Lacquer Ware Institute. She then did an apprenticeship under Shozo Kitaoka who is accredited as an Important Intangible Cultural Property by Kagawa Prefecture for his urushi work.
After years of studious apprenticeship, Natsuko launched her career as an urushi jewelry artist in 2006.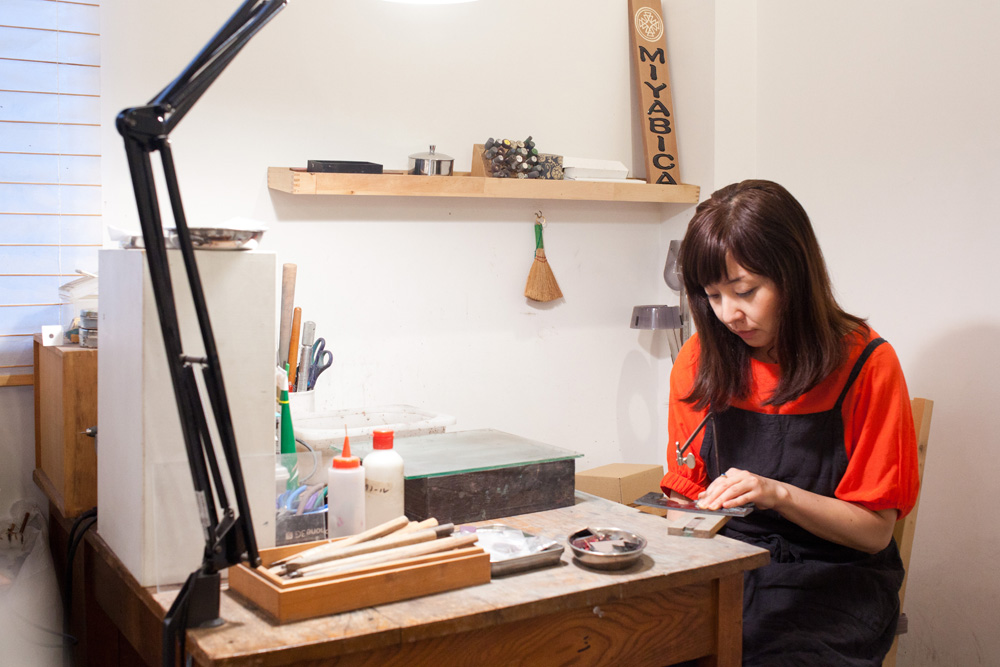 What 10 Years of Lacquer Work Taught Her
"My initial impression of urushi was of quaint gold or silver lacquer decorations that you see on Japanese bowls. So I was surprised when I discovered that lacquer allows you to work in a variety of ways like carving and layering. As I learned more about the technique, I began to realize that there was a lot of potential in the material."
10 years into her journey with urushi, she made an important decision. "Watching my mentor (Shozo Kitaoka), I slowly began to harbor a desire to create my own unique style of lacquer work, rather than pursuing the traditional skills used by the great masters."
Tsuishitsu lacquer sheets are extremely light yet hard as a stone. They are water-resistant, and become more polished with repeated use. Plus, they have an exquisitely sleek smoothness that no other material can rival. Taking these traits into consideration, Natsuko finally came up with the idea of making jewelry.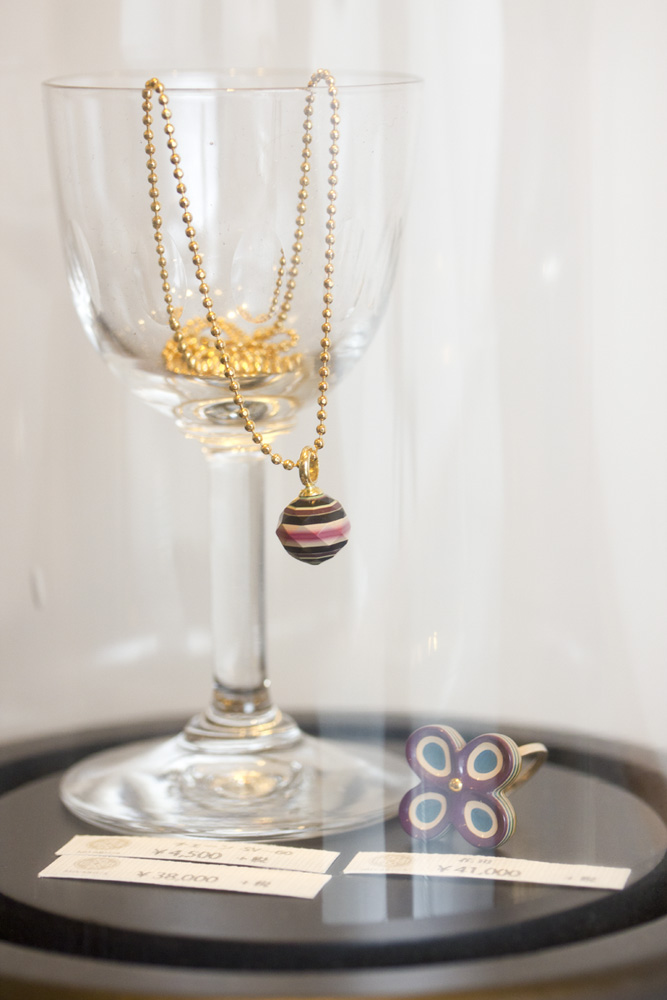 MIYABICA's multi-colored tsuishitsu sheets are made by stacking multiple layers of the same color to form blocks of single colors on top of one another. She then uses a fret saw to carve small shapes out, and a file or chisel to smooth the surface until the colored layers form an exquisite gradation. It's almost like watching an archeologist unearth hidden jewels out of the earth.
Needless to say, it's a repetitive and lengthy process, but one in which the designer quietly communicates with the urushi to allow it to blossom and come alive.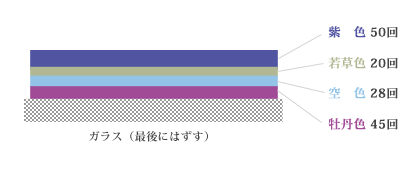 MIYABICA = Elegance and Refinement
The history of urushi in Japan dates back to the Jōmon era around 9000 years ago, when lacquer dyed red and vermilion were already in use. Japanese Lacquer trees generally take 10 years to produce sap, and only 200 cc per tree at that. It's a wonder that such a precious lacquer still exists today after almost 10,000 years, but one of the reasons for this might be due to its "miyabika," an ancient Japanese word that refers to elegance and refined sophistication.
Asked about the brand name MIYABICA, Natsuko states that "I've always loved the word 'miyabi (the abbreviated form of miyabika used today)' but for some reason, I thought that it referred to old-fashioned forms of beauty. But when I looked into it, I realized that it actually means 'urbane and refined sophistication.' The word perfectly defined what I wanted to express through my brand, so that's why I chose it."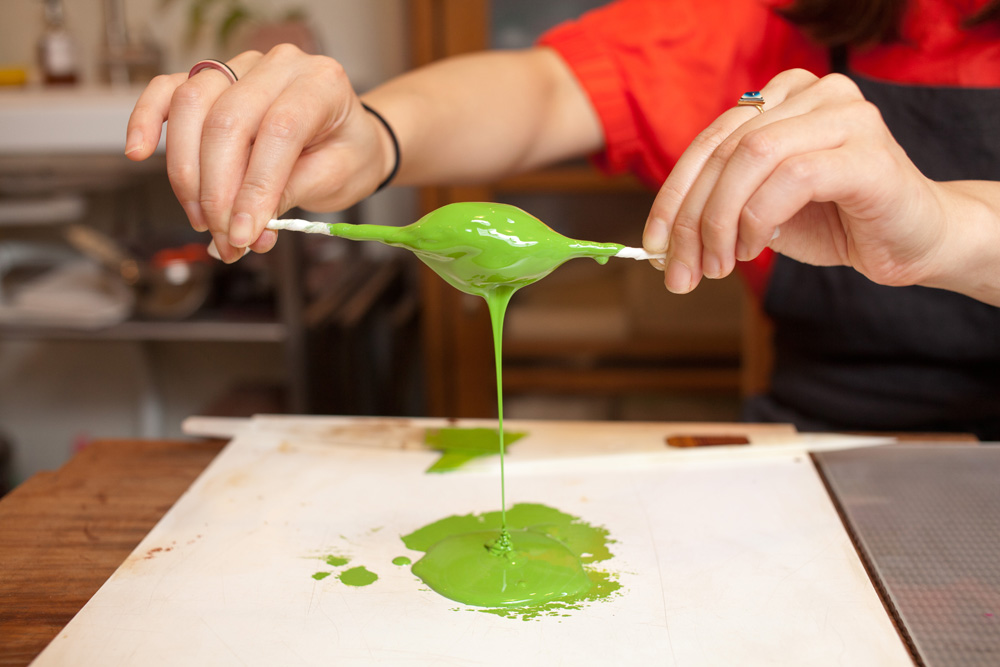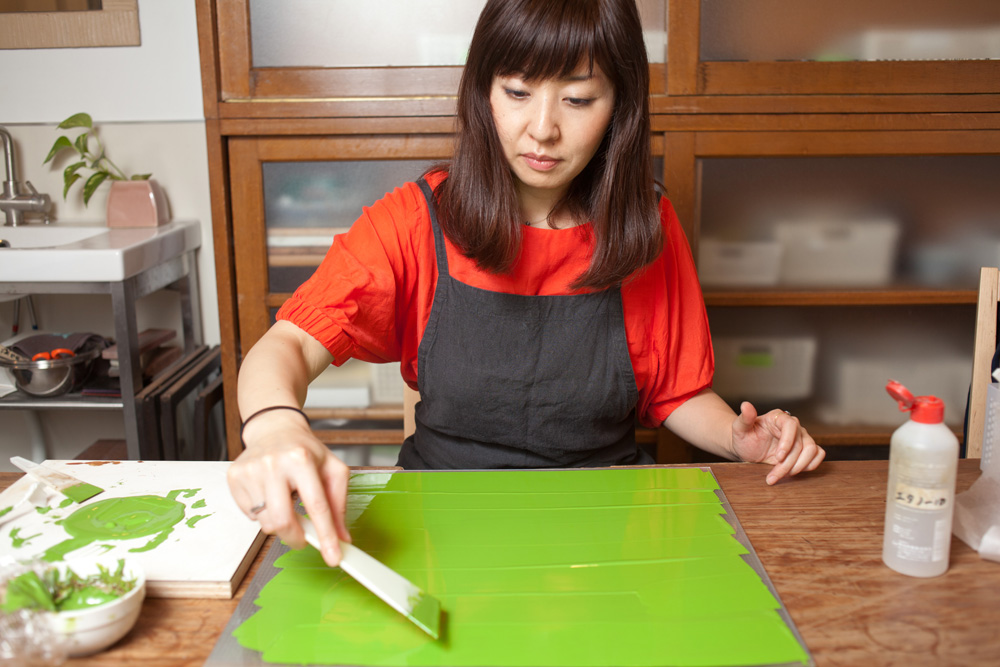 Natsuko looks back at her childhood and explains that she used to always be quiet and calm. "I'd be calmly sitting in my seat as the rest of the class made a ruckus. The teacher would say 'Look at how well-behaved Natsuko is!'" Even during the interview, she'd occasionally smile instead of speaking, giving an air of quiet gentleness.
That said, it's also true that she has the strength of mind and patience to work on something that feels like there's no end in sight. "I'm very competitive. I'd compare myself to others and think, if she can do it, so can I (laughs). I'm quiet, but I've always possessed willpower and determination."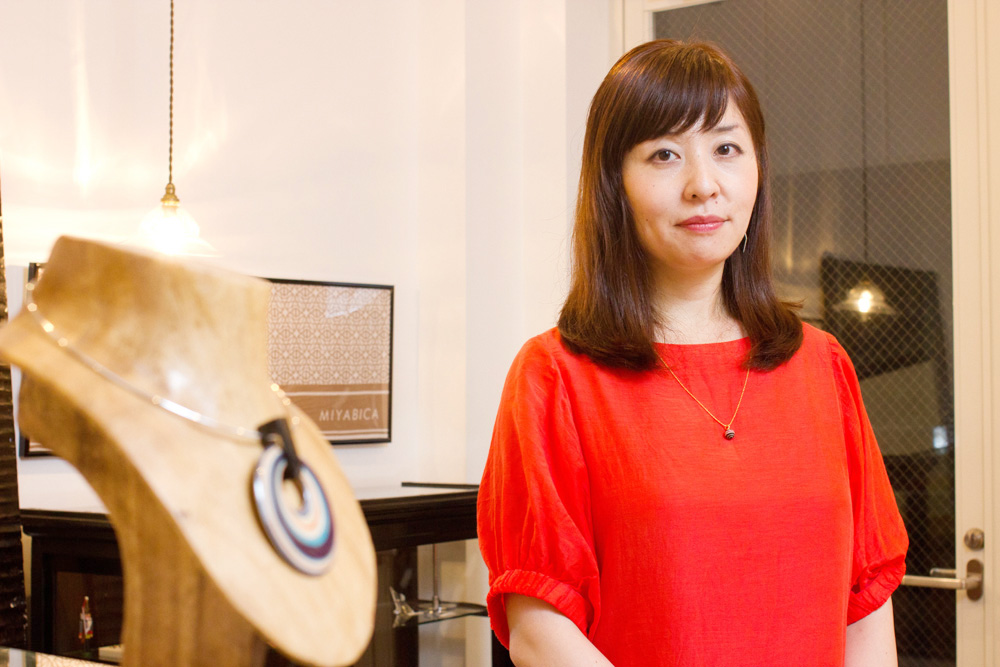 .
In a sense, this quiet, restrained expression of disciplined sophistication is an embodiment of the miyabika way, and she infuses each one of her jewelry pieces with this invaluable Japanese spirit and aesthetic.
"It's a painstaking step-by-step process, but it's almost like brushing your teeth every morning: in the end, it's worth it. Certain traditions outlive others simply because they're considered aesthetically valuable throughout the ages. As somebody who draws on a historical technique, a mediocre job isn't going to cut it. Unless we can move people emotionally with our craft, the tradition won't survive. Perhaps someday, people will cease to find value in layers of lacquer. That's why I experiment with the tsuishitsu technique everyday in hopes of finding more modern forms of expressions that might resonate with the people today."
They say that ancient urushi-lacquered works dating back almost 10,000 years are often dug up in pristine conditions, still glowing and lustrous. When future human beings unearth the urushi jewelry of MIYABICA, what will they see in their beautiful symmetry and functional form? One thing is certain: MIYABICA's jewelry is sure to stand the test of time in more ways than one.
Natsuko Minegishi
MIYABICA designer
http://www.miyabica.com/ja/
Born 1976 in Saitama Prefecture.
Natsuko encounters urushi lacquer for the first time during her studies at the Department of Industrial, Interior and Craft Design at Musashino Art University.
Immediately drawn to its beauty while seeing potential in the material's expressiveness and rich variety of hues, she moved to Kagawa Prefecture after graduating in 2001 to study the specialized skills of urushi lacquer at the Urushi Lacquer Ware Institute. She then did an apprenticeship under Shozo Kitaoka who is accredited as an Important Intangible Cultural Property by Kagawa Prefecture, while steadily exhibiting her work in traditional craft exhibits and urushi shows.
2006 Begins making jewelry independently based on the tsuishitsu lacquer method.
2009 Launches the brand MIYABICA.
2011 Opens a shop and studio along the 2k540 AKI-OKA ARTISAN arts-and-crafts strip.