NIJI SONG
Accesary designer
Photos by Mitograph
Text by Tomo Kosuga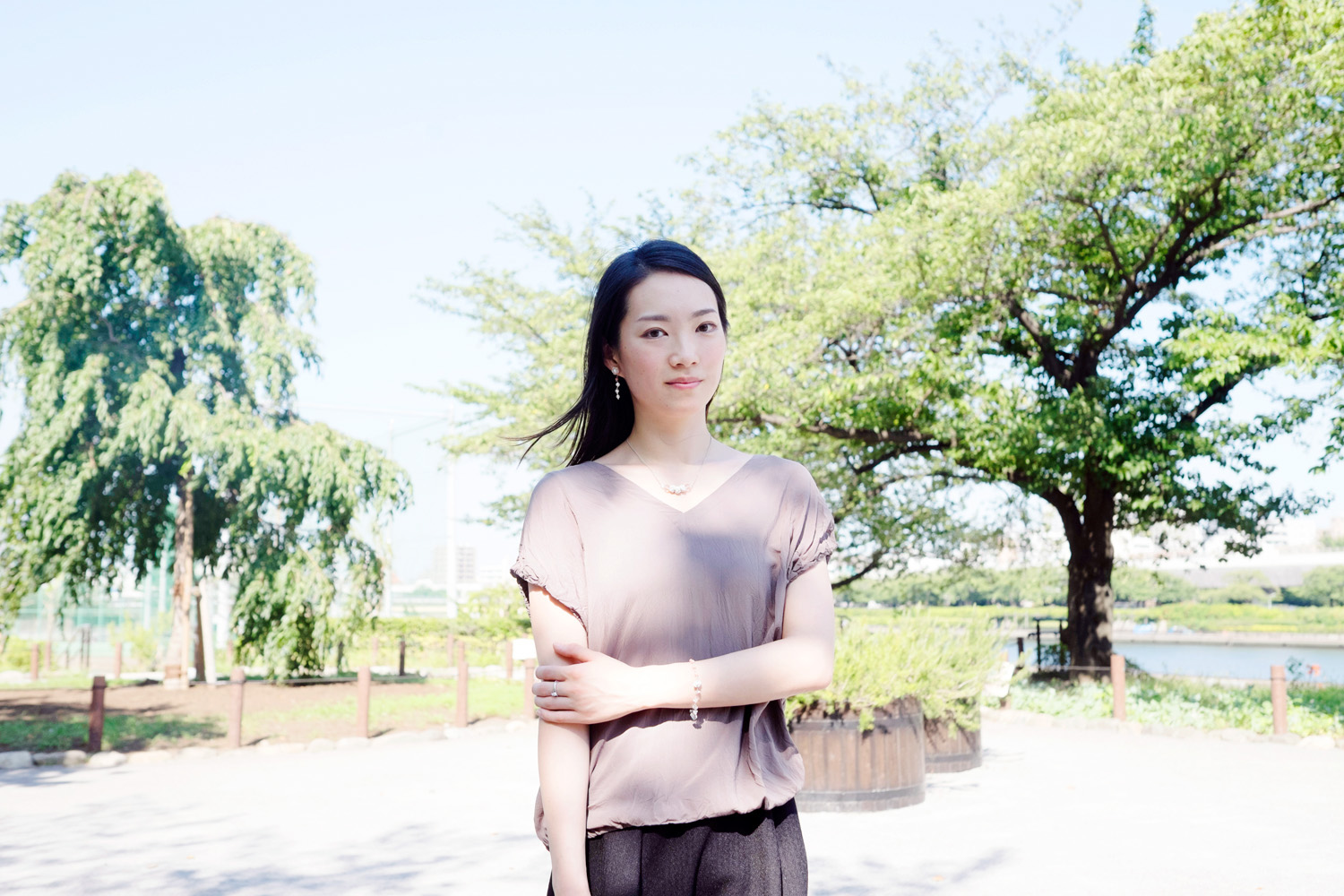 In this first installment of "Soul of Takumi" – a series about master craftsmen from across Japan – we talk to the accessories designer NIJI SONG about her eponymous brand.
NIJI SONG's accessories are characterized by her use of knotted cords reminiscent of the ancient Japanese mizuhiki – a decorative, tightly-wound knotted cord in the shape of a bow or loop – or the Korean Garakji knot. She ties each knot herself, while blessing each piece with eternal happiness for their owner.
Her uniquely cross-cultural designs draw heavily upon her background of being born to Korean parents, growing up in Japan, and studying fashion both in Korea and London.
We spoke to NIJI SONG about her international background, her foray into design, and the experiences that form the basis of her creativity.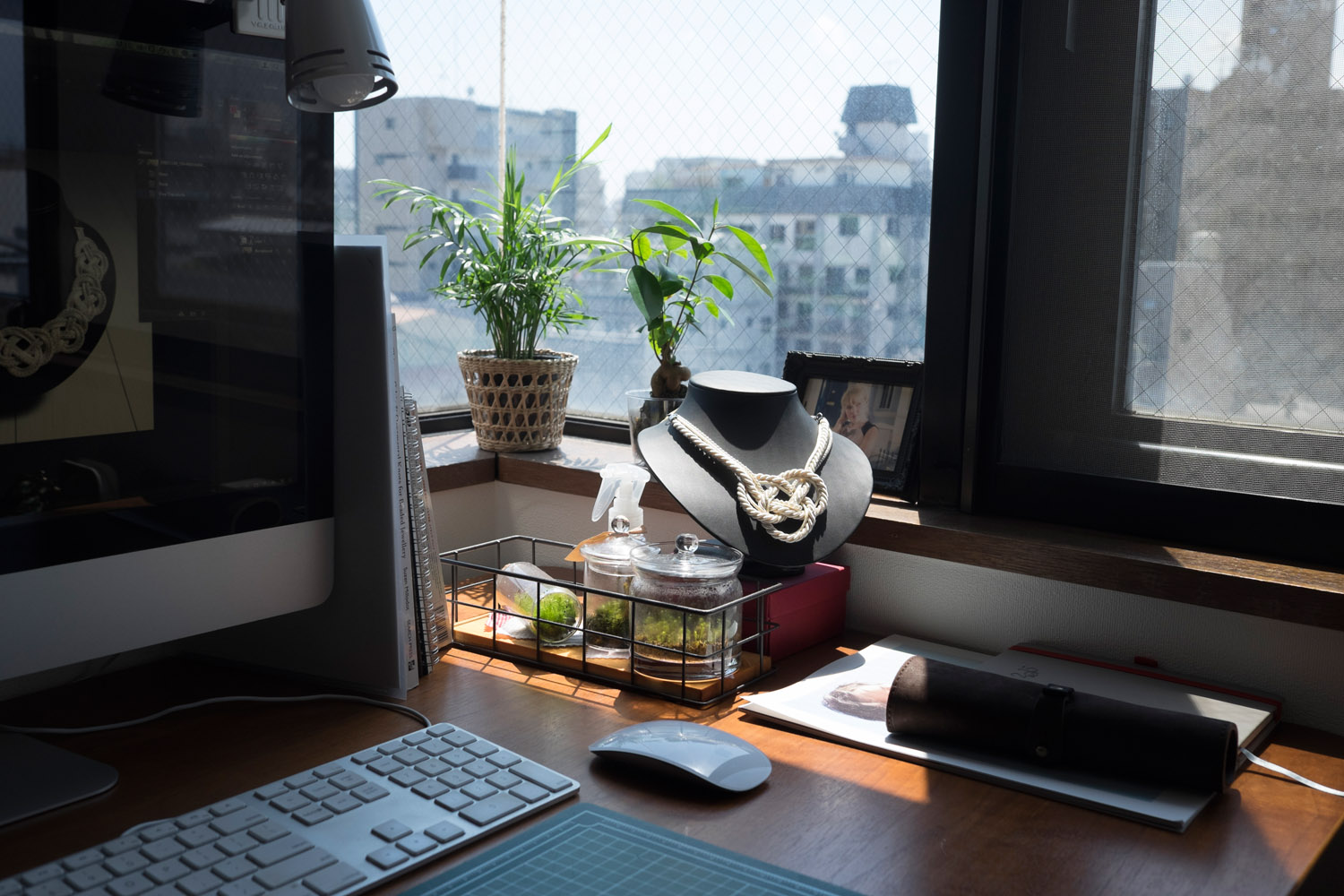 Being Born in Korea, Growing Up in Japan, and Studying in London
NIJI's family moved from Korea to Japan when she was just three years old, meaning that she essentially had a Japanese upbringing. However, it was only a matter of time before she felt the urge to learn more about her roots. As a high school student, she decided to learn Korean in Tokyo before moving to South Korea to study fashion at university.
She then moved to Atlanta in the United States to learn English before moving onto a Master's degree at the London branch of Istituto Marangoni, a prestigious fashion school founded in 1935 which today attracts young students from all over the world who are passionate about fashion and design. From there, NIJI continues to make the world her stage with her ongoing endeavors.
What was it that originally made her interested in living overseas?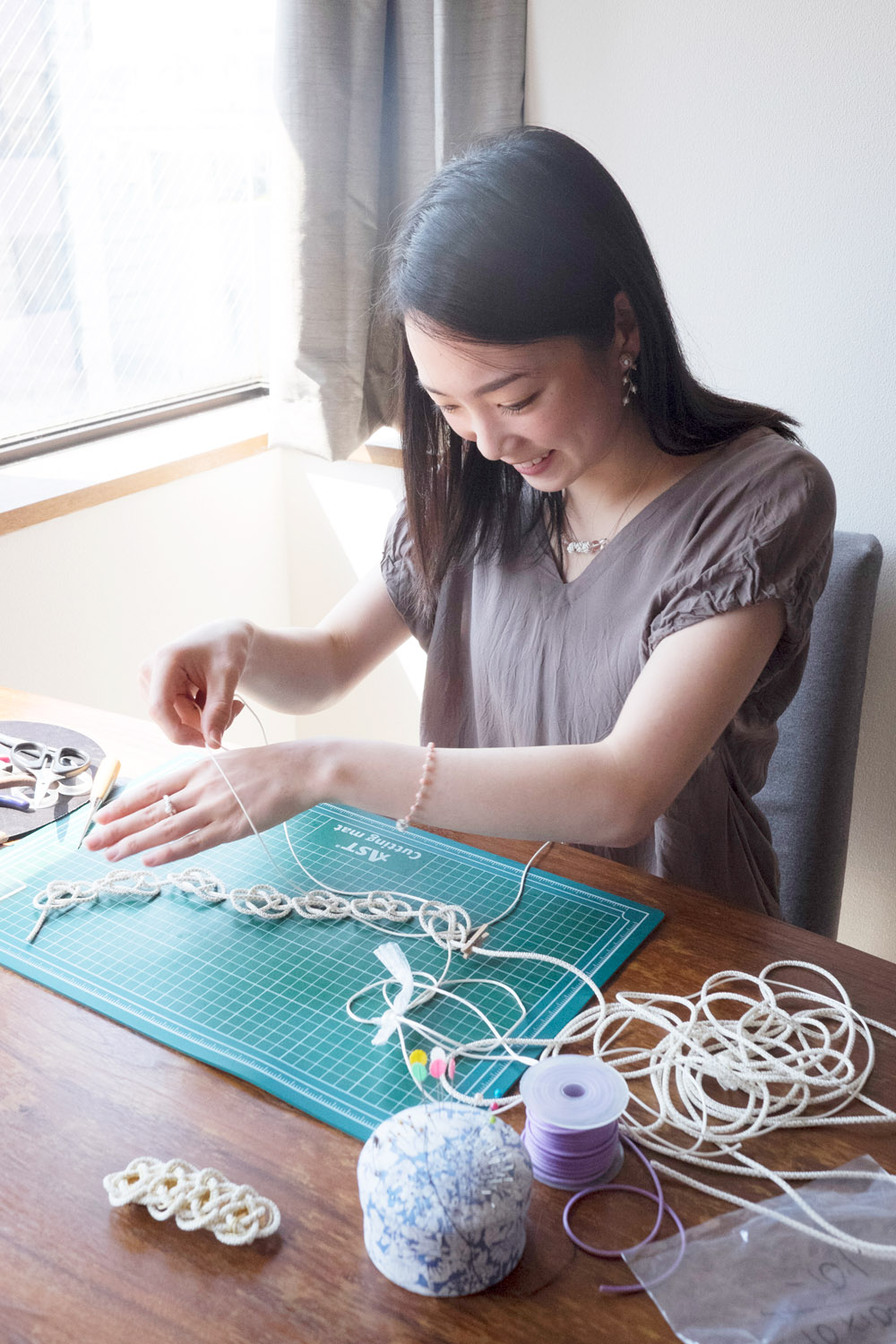 Being Inspired by Gokinjo Monogatari ("Neighborhood Story")
"Have you heard of this manga series called Neighborhood Story that ran in Ribbon (a manga magazine for girls) in the nineties? I loved how Mikako, the main character, lived life so energetically and used her feelings of frustration, sadness or happiness to make amazing clothing designs. You could say that my interest in fashion began with this manga."
She even chose to attend university in London based on Neighborhood Story. "In the latter half of the series, Mikako studies fashion in London. So I decided to do the same (laughs). A relative in Milan told me about the Istituto Marangoni, and I chose the London school because it teaches courses in English."
Note* 1) Neighbourhood Story: A hugely popular manga series that ran in the girl's manga magazine Ribbon (published by Shueisha) between 1995 to 1997, featuring a group of friends as they go to fashion school and pursue their dream of becoming designers. By Ai Yazawa.
Branching Out Globally, Only to Return to Her Roots
After making her dream of studying fashion abroad come true, it looked like she was all set for an international career. Yet at a certain point during her time in London, she began to feel drawn to her two home countries, Korea and Japan.
"Living in London made me realize that I'm just a small Asian girl from Korea and Japan. I gradually understood that my strength lies in the ability to draw on these cultural traditions. Once, for a class exercise, I incorporated Japanese and Korean styles into my designs. The teacher at the school in London gave me very encouraging feedback, and it convinced me that I was right."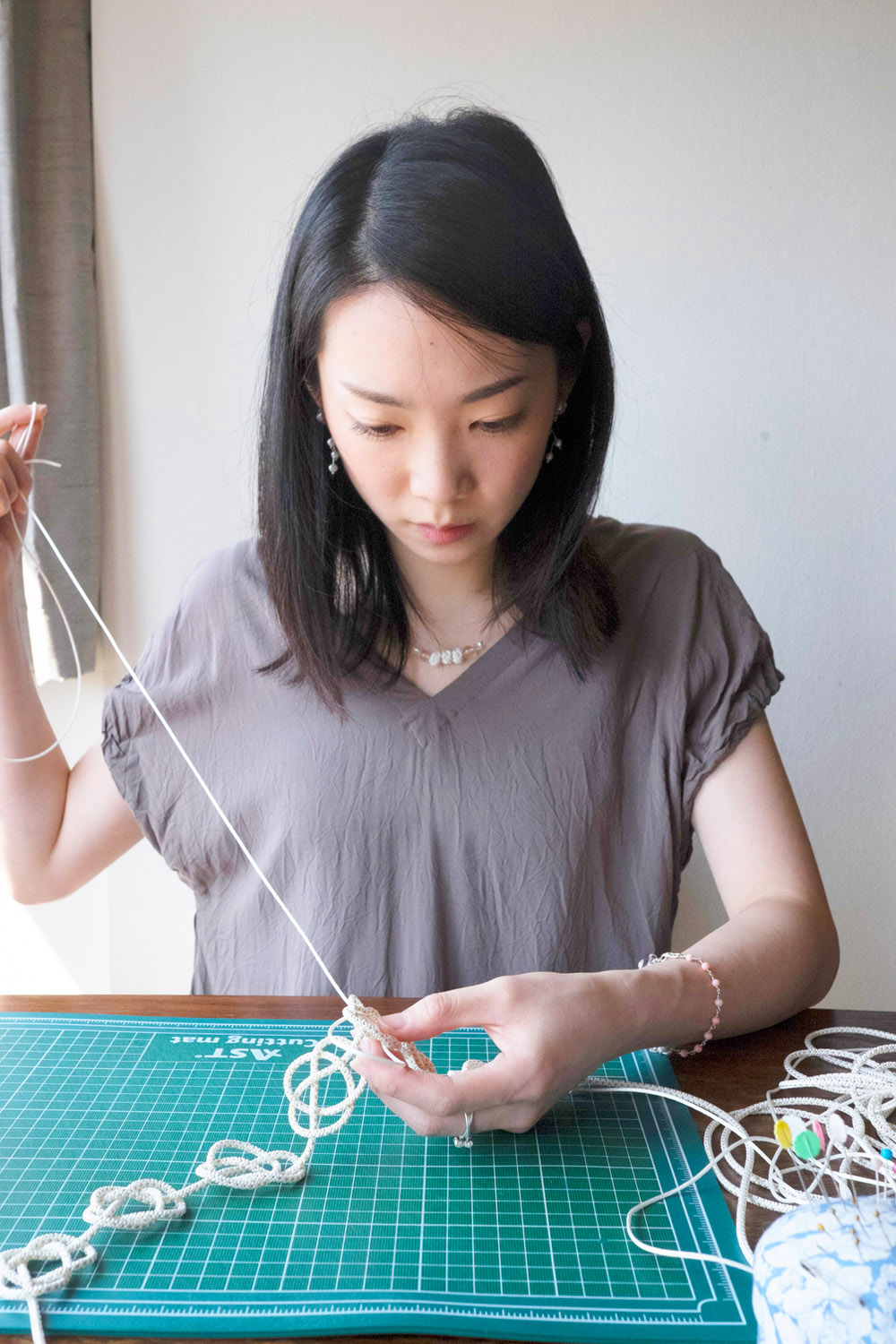 After finishing her Master's in London, she chose Japan to develop her career. Despite living overseas for more than a decade, it was this time away from home that made her realize that it was an integral part of her identity. "I launched NIJI SONG in 2013 in London, and came back to Japan the following year. It's been around a year since then." Soon after she returned, she was already busy at work for a handmade accessories book that she was being featured in.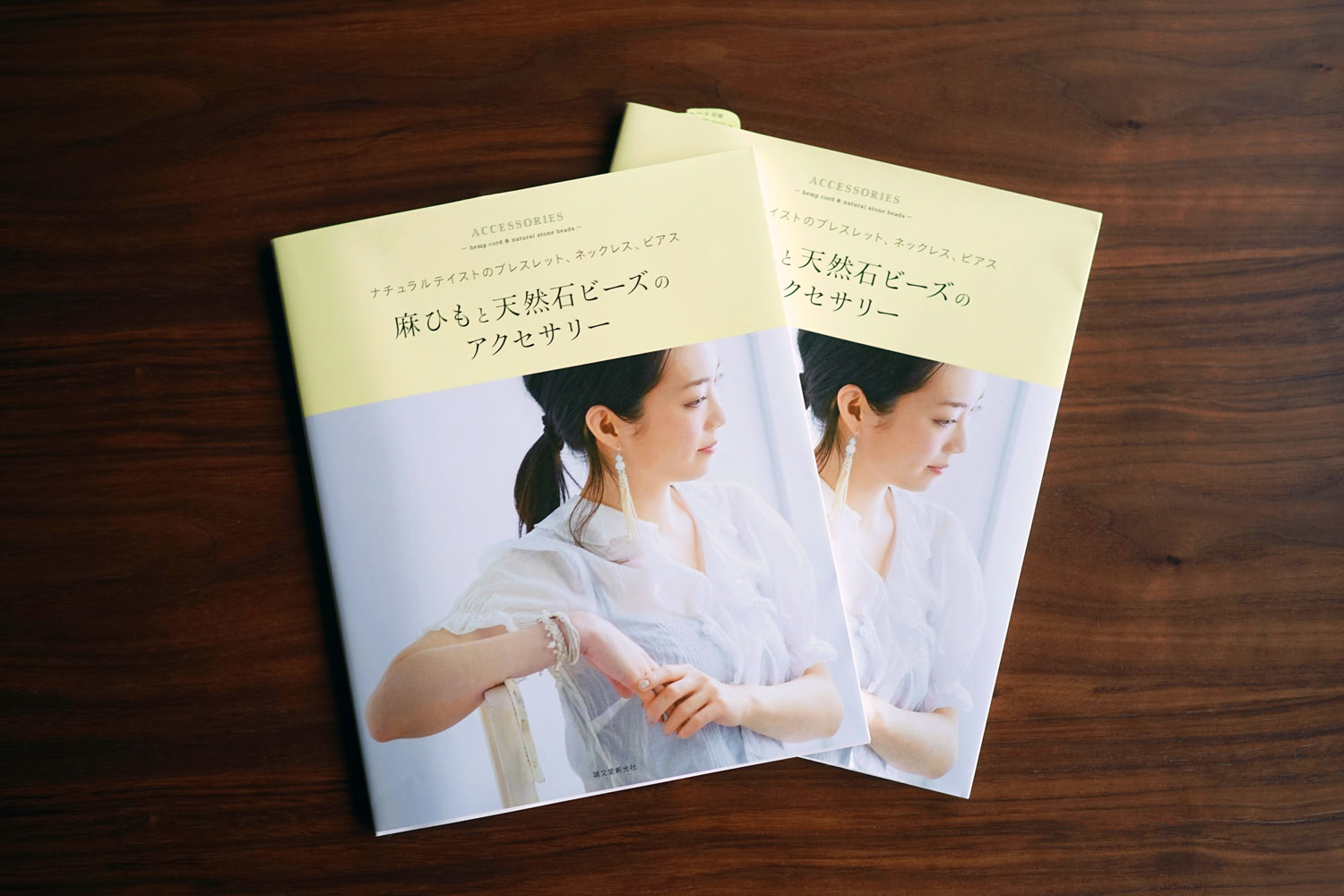 Hoping to Bestow Happiness Upon Her Customers
There was a time when NIJI struggled with her relationship with fashion, but says that this period gave her precious insights into her position as a designer.
"I found myself despising the way fashion was going, what with the fast fashion trend creating a cycle of mass production and mass discarding. I wanted fashion items to have more meaning and more longevity."
This inner conflict gave NIJI a game-changing idea.
"It was around this time that I came up with the idea of incorporating mizuhiki knots into my designs. Traditionally, each type of knot has a different name and meaning. For example, awaji-musubi is a knot that means "hope for eternal happiness" and is often used to decorate special envelopes in which people give money to the bride and groom at weddings. Eternal happiness is what I want to bestow upon all of the people who buy my accessories, and I hope that they end up wearing them for years and years. The experience of living in Korea, United States and London led me to the mizuzhiki knot."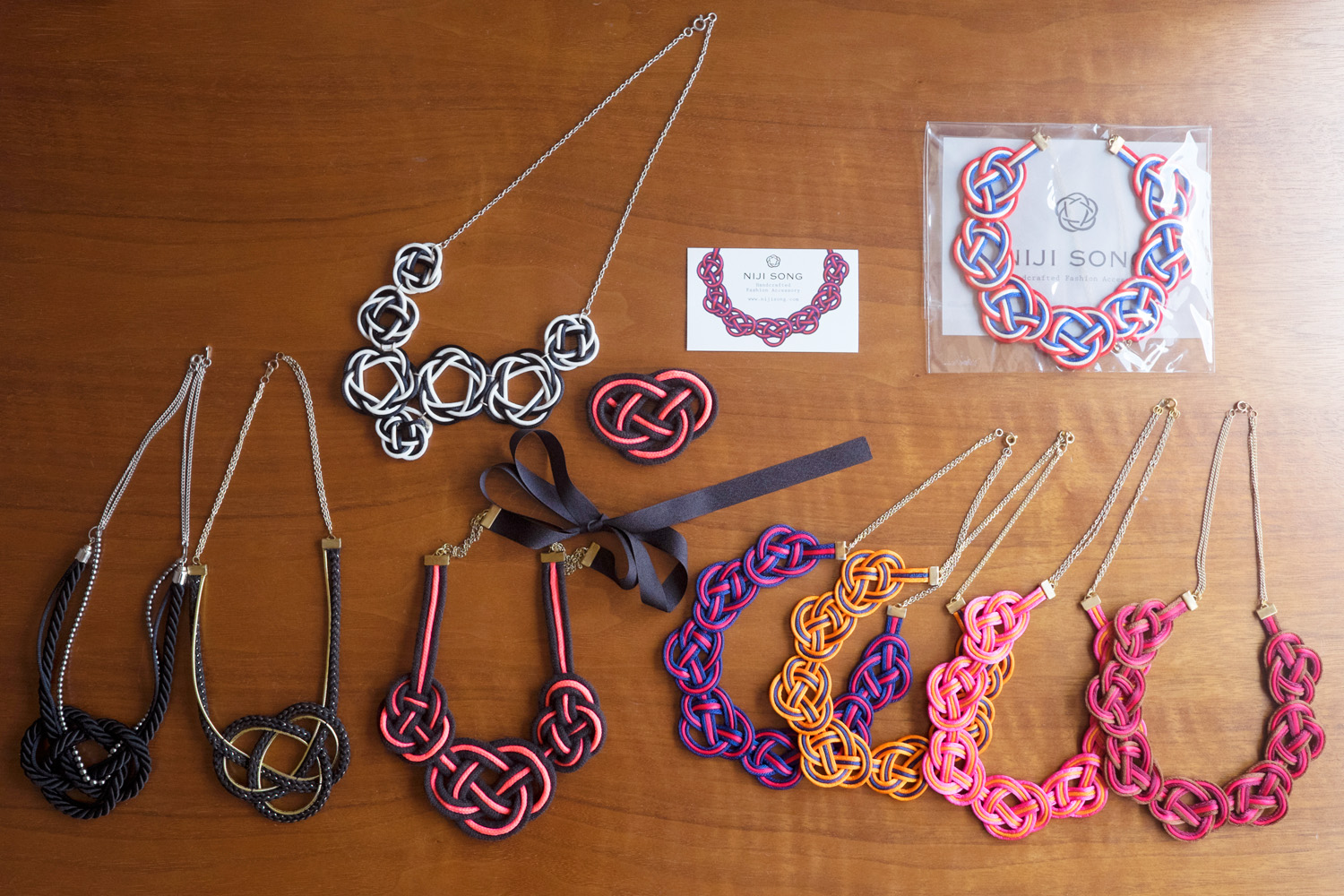 Surprising Common Ground Between Japan and Korea
NIJI was surprised to discover that the awaji-musubi and awajidama (a balled-up knot), two of the mizuhiki knots that she regularly uses in her designs, had historical significance in Korea as well.
"The awajidama is formed by tightly pulling the awaji-musubi knot into a ball. In Korea, the same knot exists and it's called Garakji. Apparently it was a knot that they used to make rings. Discovering this connection made me even more convinced about my mission of communicating this ancient tradition to younger generations, especially from the position of being both Japanese and Korean."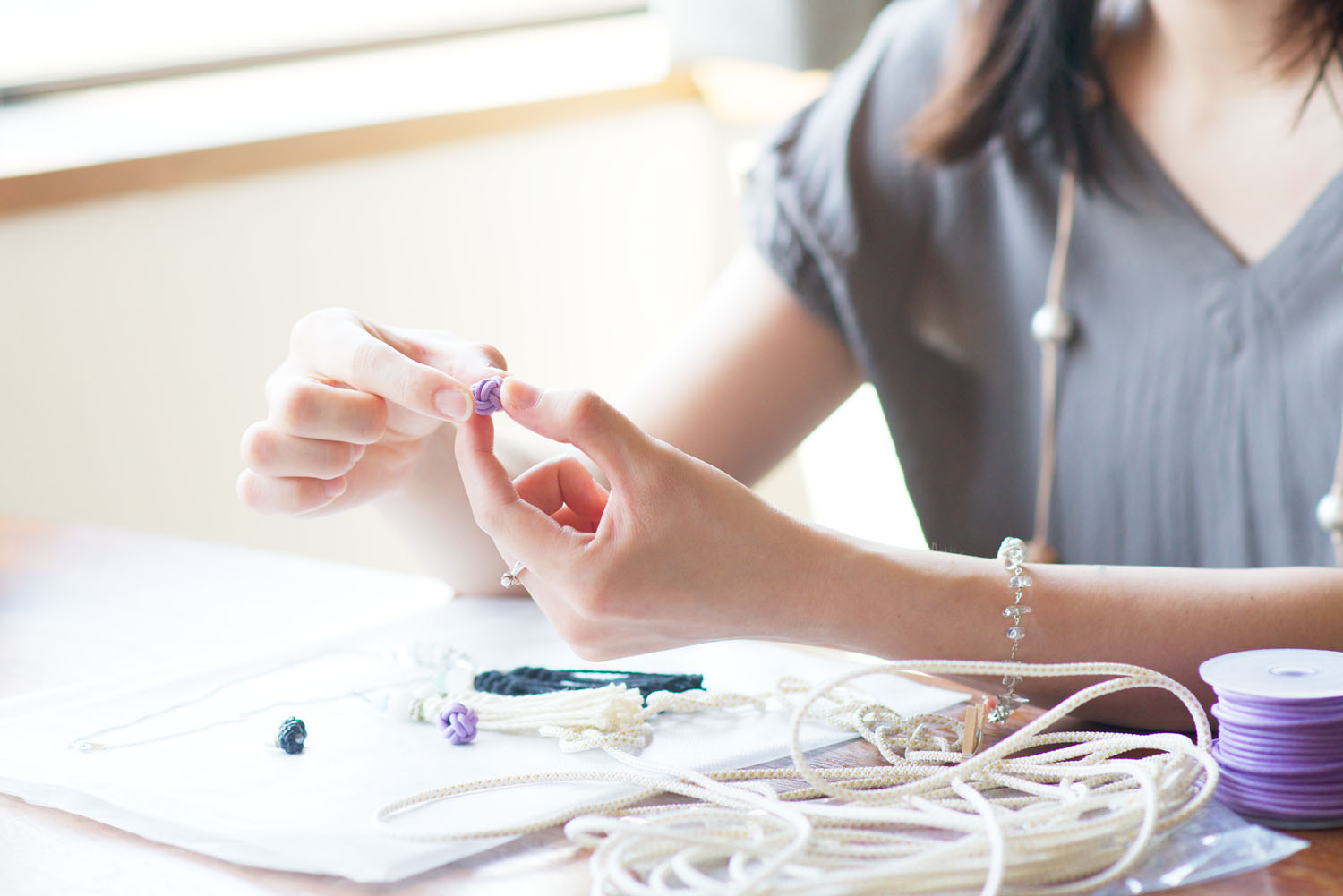 Origin of the Name NIJI
NIJI, meaning 'rainbow' in Japanese, is fitting for someone who is trying to bridge the gap between cultures and traditions. How did she come up with the name?
"NIJI is a nickname that my brother used to call me by, because as I child I loved colors so much that I would place colored pencils around my room as ornaments. Now my parents call me NIJI, too. It's fitting because it's shaped like a bridge that connects two places or ideas, and because I want to be able to possess a diverse range of creative expressions like the seven colors of the rainbow. My wardrobe is full of monotones though (laughs).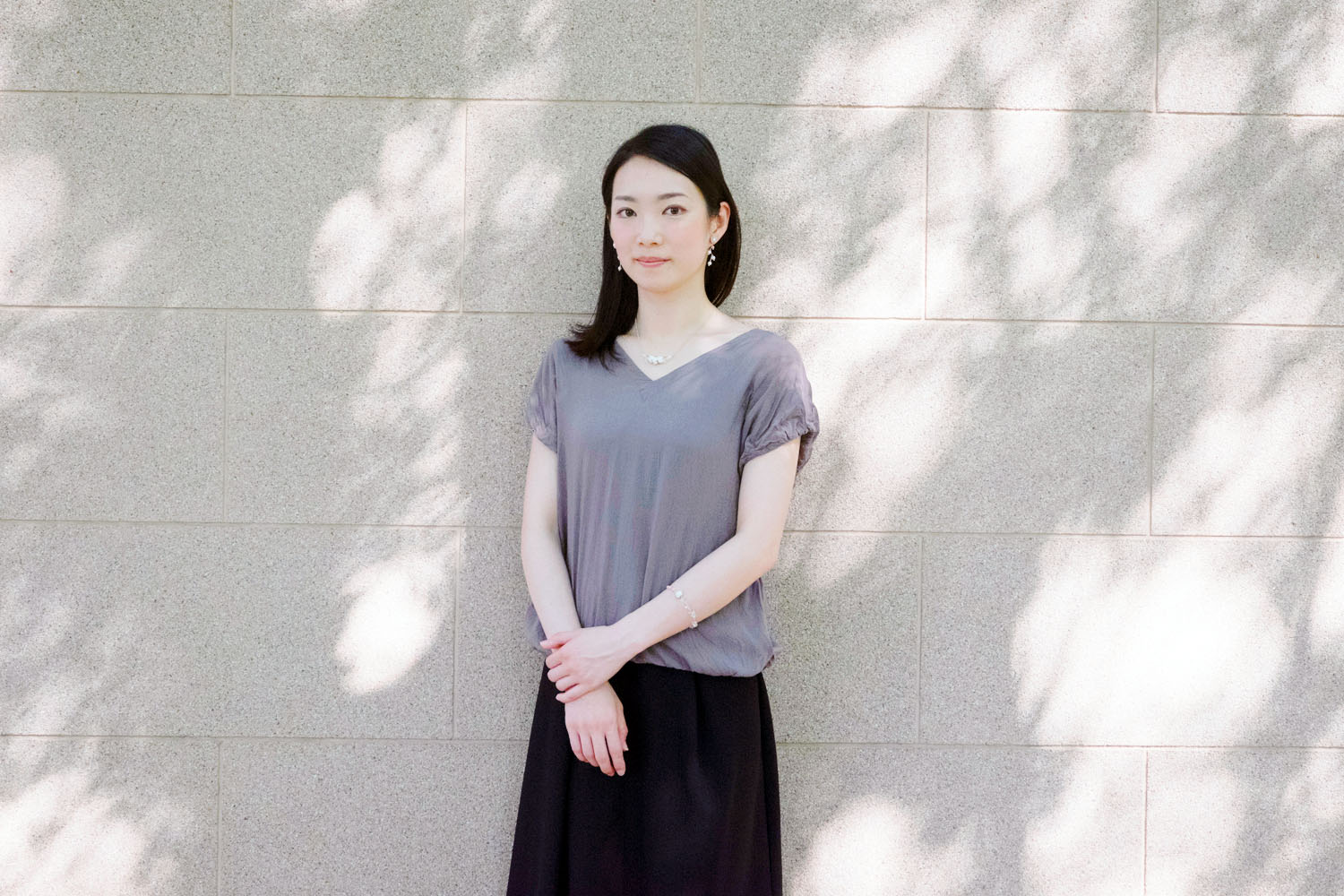 How to Wear NIJI SONG
We asked her how she envisions her accessories being worn.
"Because the designs are all made of rope, they blend into any clothing you're wearing with ease. I imagine a passerby asking about the mizuhiki knot, and the wearer explaining how this particular type of awaji-musubi knot means eternal happiness. I hope they provide a sort of natural segue into a conversation about this ancient tradition."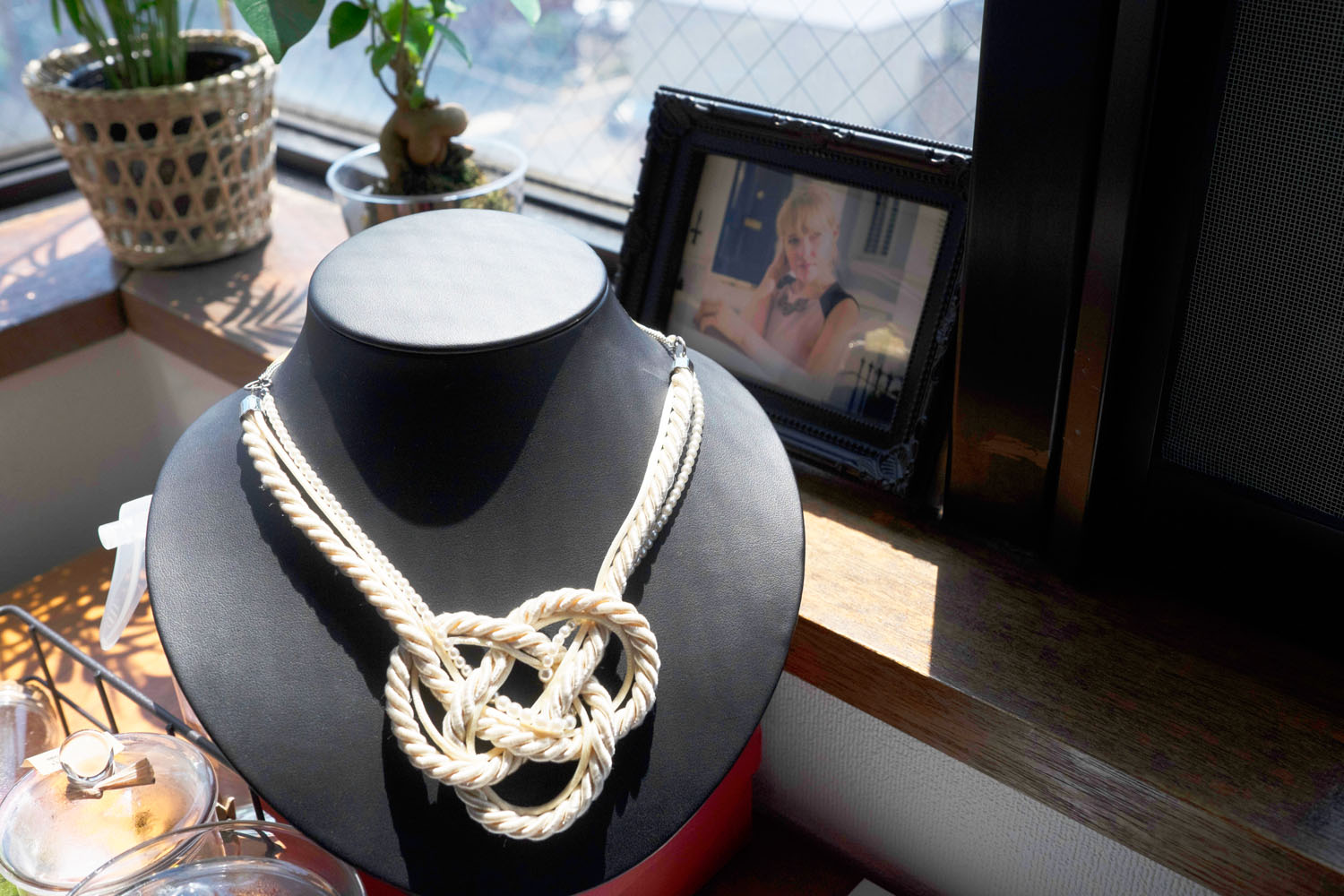 Recommended Item
We also asked which items NIJI SONG personally recommends.
"I'd say the necklaces. Earrings are hard to notice sometimes, but necklaces stand out front and center. You won't find the same kind of designs anywhere else, so hopefully people will use them as a unique accent to enhance their styles. Your chest is close to your heart, so a necklace can act as a sort of good-luck charm."
She adds that "accessories are where your individual sensibilities shine the most. They also have the magic of making your day feel special. You feel different when you're not wearing anything."
Lastly, what does she particularly take care in when making her accessories?
"The most important thing for me is comfort. The ropes are light and sit comfortably on your skin. I only use real silver or gold-filled metals, so people with metal allergies can wear them too."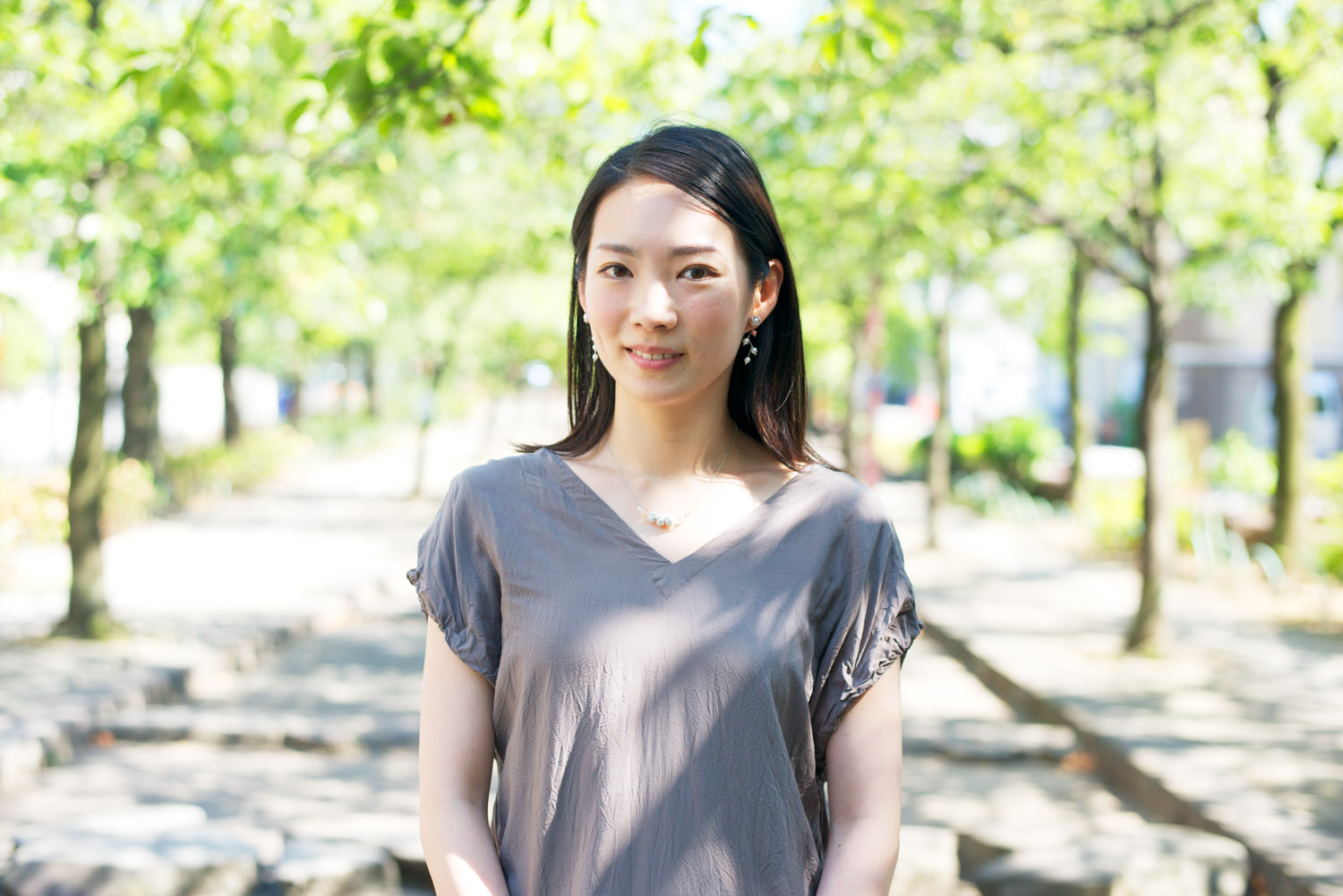 In her short two-year career, she's already been featured in a book and is fast establishing a name in the industry. "NIJI SONG is like my child. To raise children you need resolve, responsibility, and money. Right now, I'm cutting down on sleep to help this one grow."
Ichi Point is a proud retailer of the NIJI SONG brand.
NIJI SONG
NIJI SONG designer
http://www.nijisong.com/

NIJI SONG is an accessories brand established in London and based in Tokyo.
The brand extensively features ancient Japanese and Korean knots in its designs.
2013 Featured in the ASEAN Fashion Week runway show (Kyoto).
2013  Collaborated with the designer's boutique Happie Loves It in London to create the Happie Loves NIJISONG line.
2014 Began retailing at Marui Department stores nationwide and the Creema Store at Lumine Department Store in Shinjuku.
2015 Featured in the handmade accessories book Asahimo to Tennen Bīzu no Akusesarii (Accessories Made with Hemp Twine and Gemstone Beads)" published by Seibundo Shinkosha.