ISE
Text by
YOKO ARAMAKI
Photos by
SHUN TSUNODA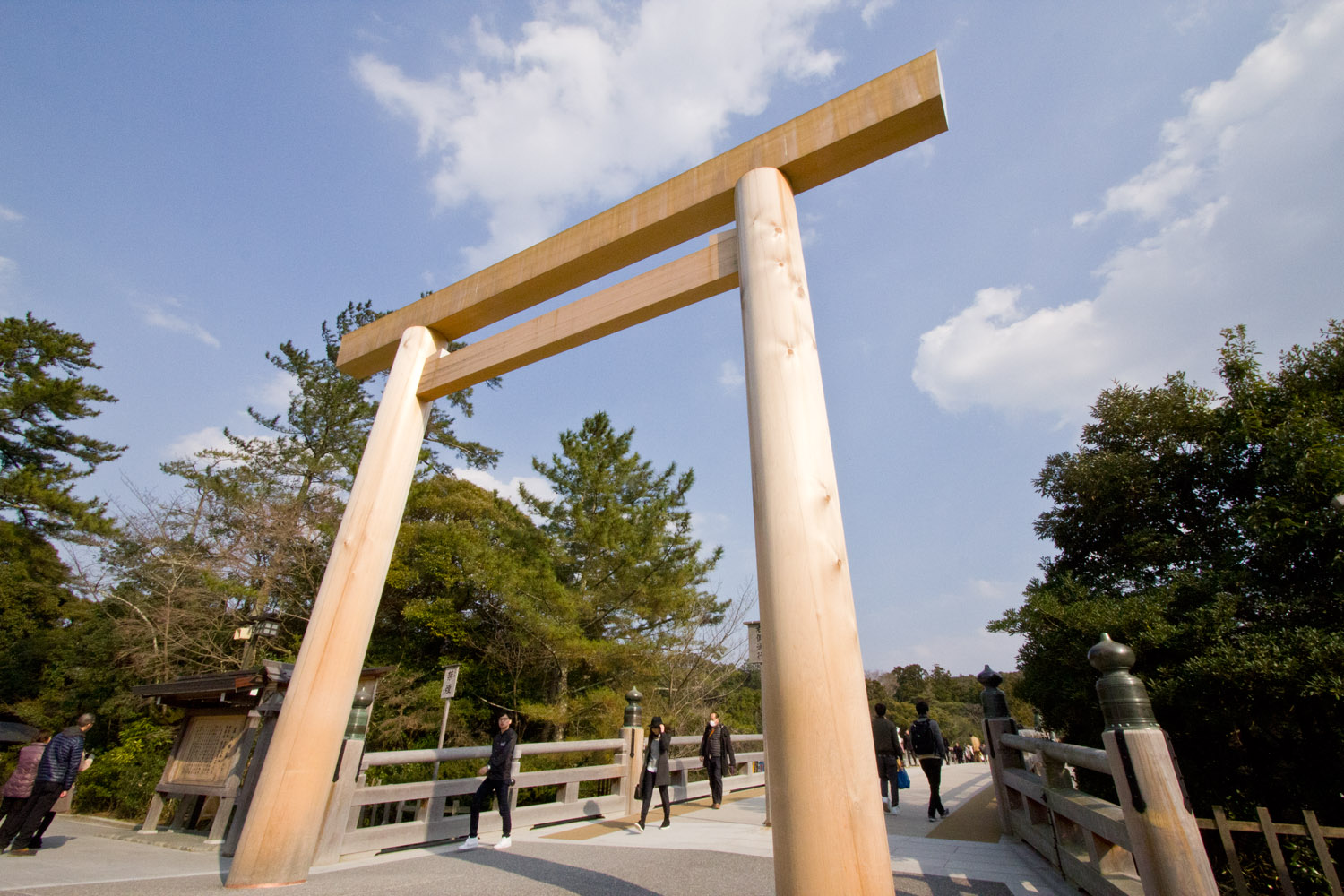 "Wa Sampo" is a series that presents a first-hand look at some of the best spots in Japan that are worth visiting at least once. In this first installment our destination is Ise in Mie Prefecture.
From Tokyo, Ise is about a three-hour ride on the Tokaido Shinkansen with one transfer at Nagoya. From the Kansai area, it's around two-hours on the Kintetsu limited express departing from Kyoto or Osaka. After gently swaying on the shinkansen and train, we finally arrived at Iseshi Station. This was the beginning of our exploration of the charms of Ise.
Ise Grand Shrine, from outer to inner shrine
A visit to Ise Grand Shrine is probably the first thing that comes to anyone's mind when thinking of Ise. We made this no-miss destination our first goal upon arriving.
Though it is officially referred to as a shrine, "Ise Grand Shrine" is actually an inclusive term for 125 smaller shrines (yashiro), the most prominent of which are Koutai Shrine (known as the "inner shrine") and Toyoukedai Shrine (known as the "outer shrine"). There is a set in order in which the shrines are to be visited, with worshipping at the outer then inner shrine being customary. This is why we chose to get off the train at Iseshi Station, the closest station to the outer shrine.
Upon reaching the Hiyokebashi Bridge, which leads to the entrance of the lower shrine, one must not forget to purify the mind and body before passing through the torii.
Now it's time to pass through the torii gates. After a short walk down the wide temple path of packed gravel you will finally arrive at Shogu Shrine.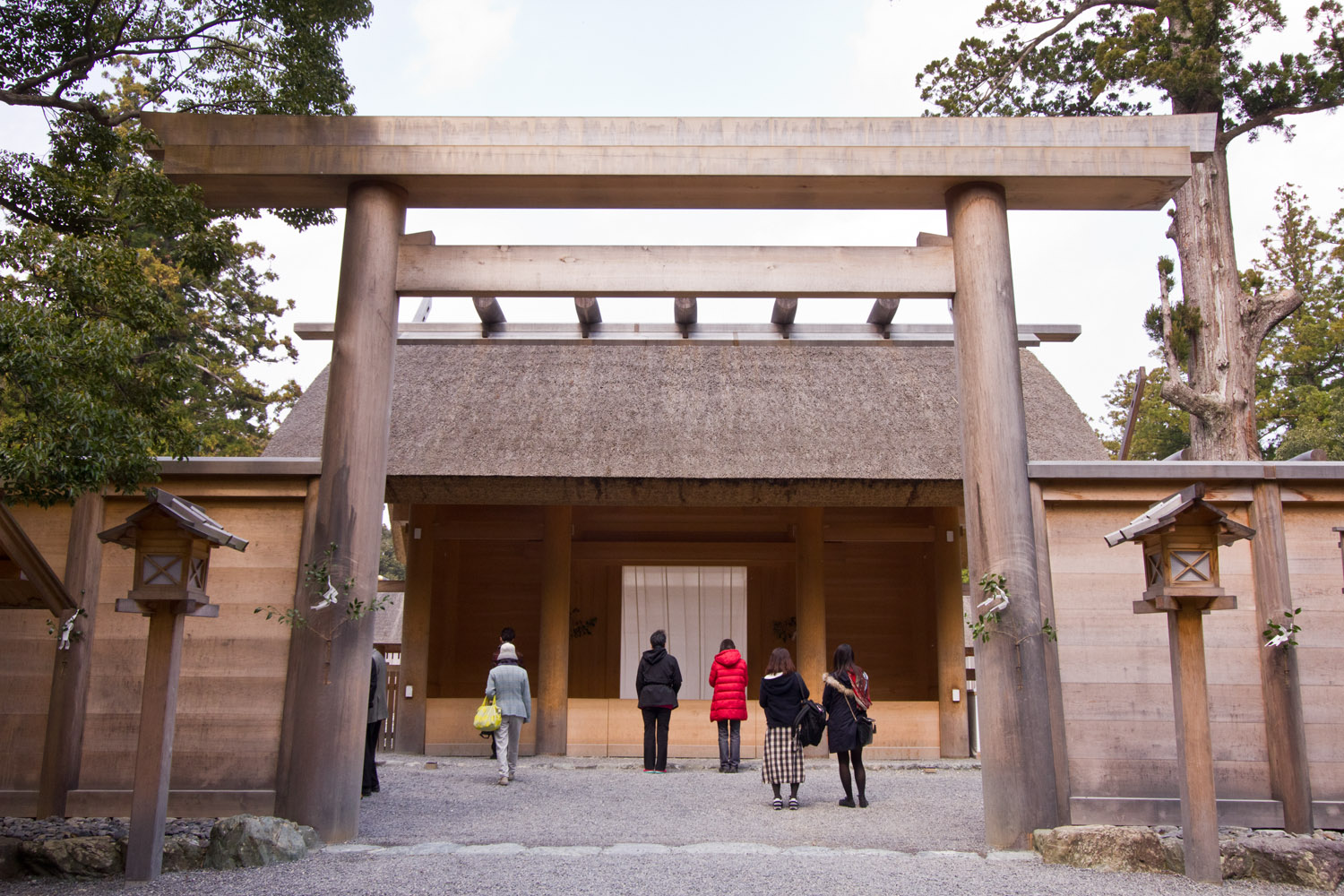 Perhaps you're curious as to why there is no saisenbako (offering box) at the shrine? The reason is that in the past no other offerings except those to the emperor were accepted, and it is the lingering traces of this custom that has kept a box from being placed at the shrine. Instead there is a white cloth laid out for offerings to be placed upon. While it's customary when worshipping at a shrine to wish for things related to personal interest, it's perhaps best to avoid making individual wishes at the shrine proper.
Still, there is no reason to be let down. In fact, it's said that the Takanomiya shrine located within the same site is a great place to make personal wishes. Takanomiya can found atop a 98-step stone staircase located a short ways down a side path across from the shrine proper.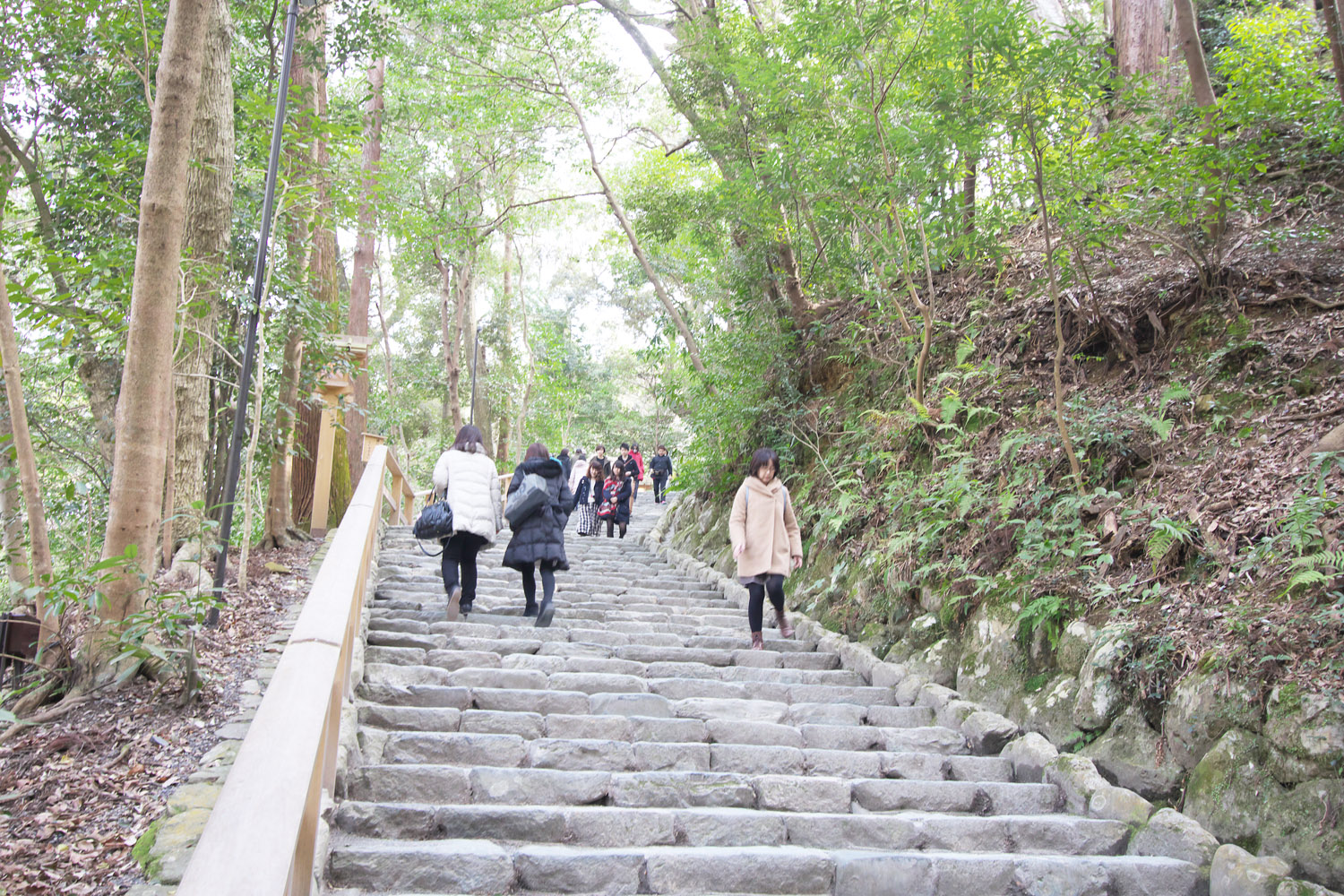 Our next destination is the inner shrine, which worships Amaterasu Omikami, the ancestral deity of the Imperial household. The Ujibashi Bridge that leads to the entrance of the inner shrine is said to lead to the heavenly world.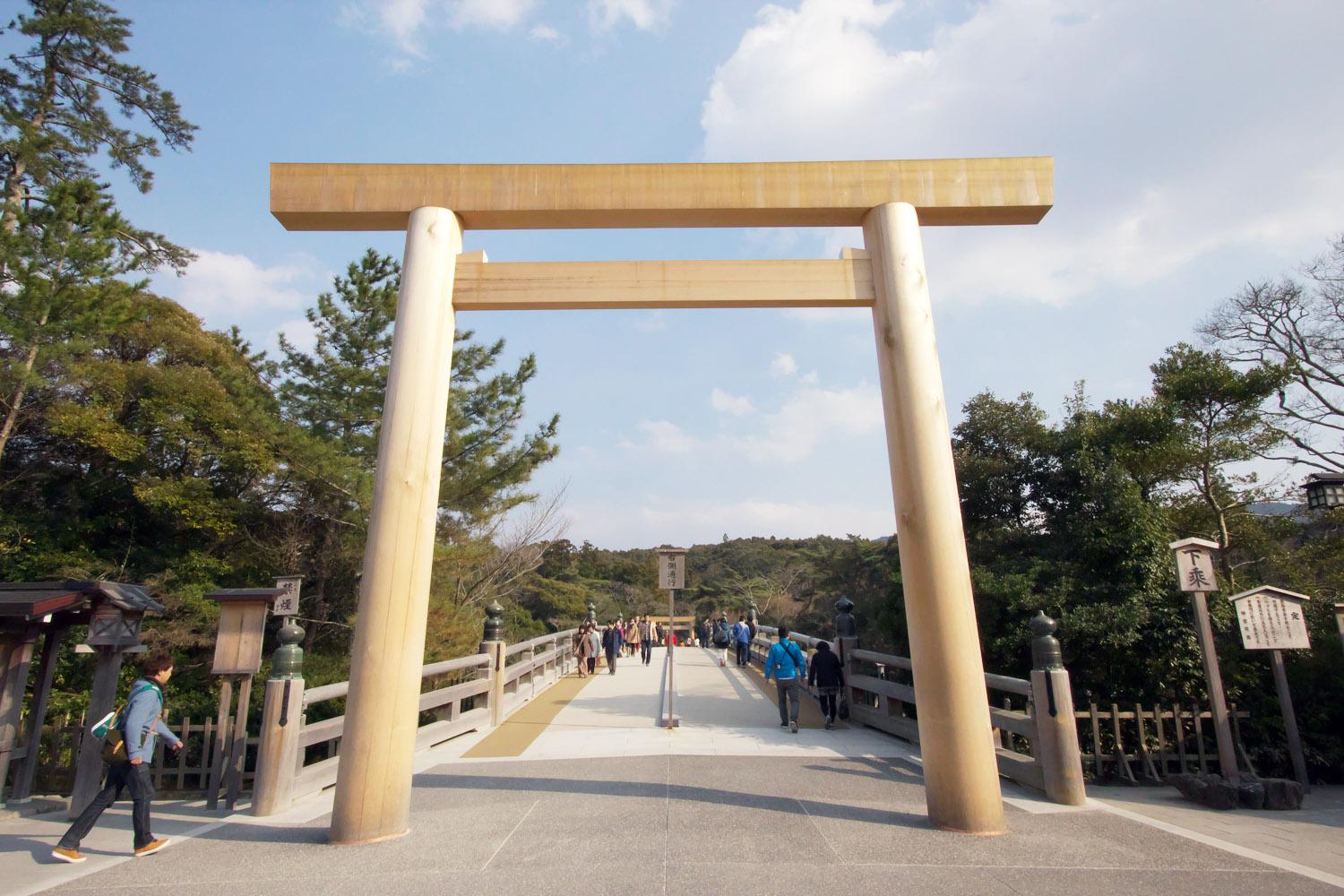 As with the lower shrine, you will need to walk the shrine path then cleanse yourself before passing through several torii to reach the main shrine. It's been written somewhere once before that each time you pass through a torii you get closer to the gods, and upon actually walking through the gates we could feel that this was actually true as our bodies grew more tense.
With this thought in our minds, the stone staircase finally came into view. The main shrine lies at the top of these stairs.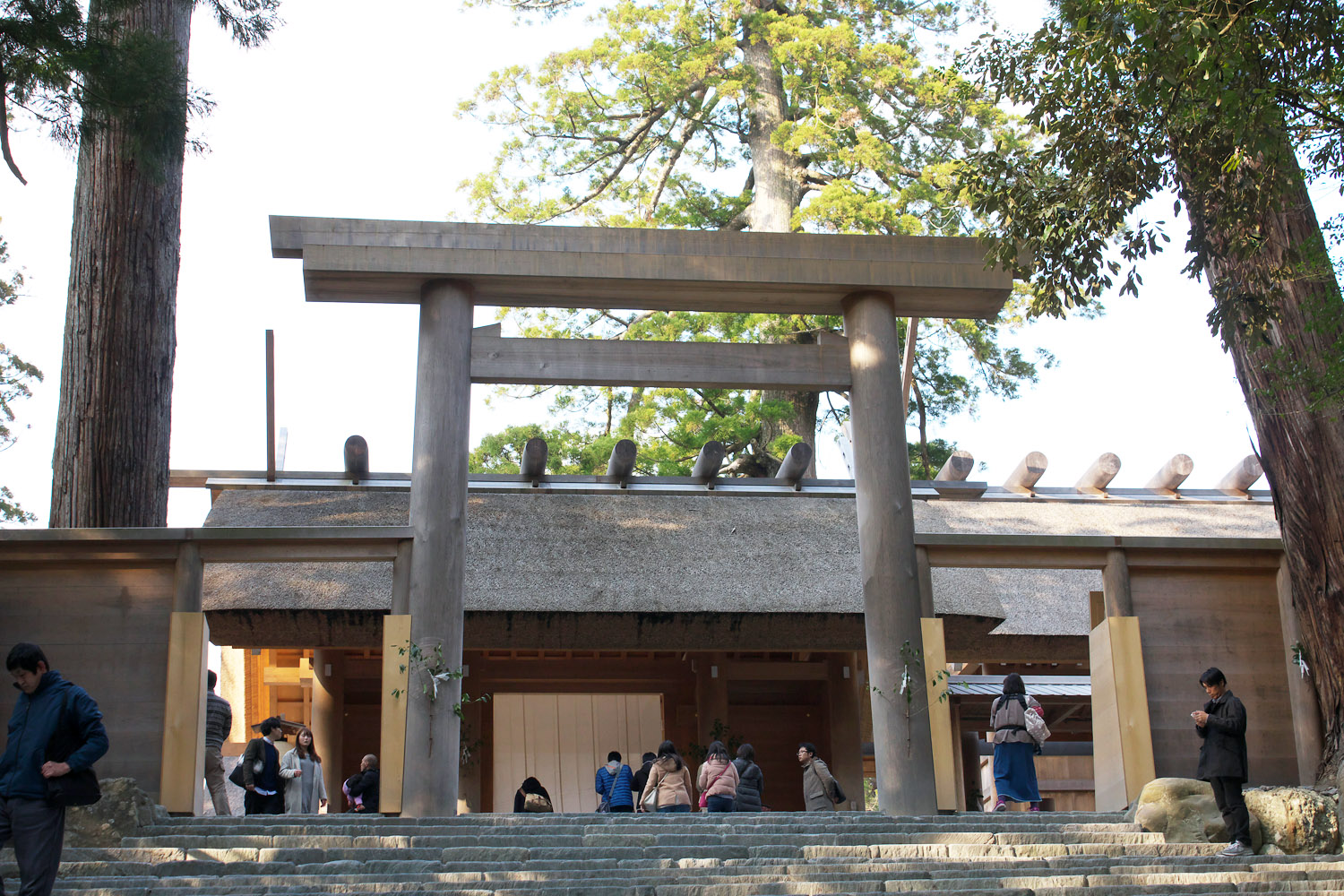 Performing the same "bow twice, clap twice, bow once" worship as at the lower shrine, we move on to Aramatsurinomiya Shrine, which is said to be second only in status to the main shrine. The locals worship the gods of this shrine when they need help in times of trouble or wish for a long life.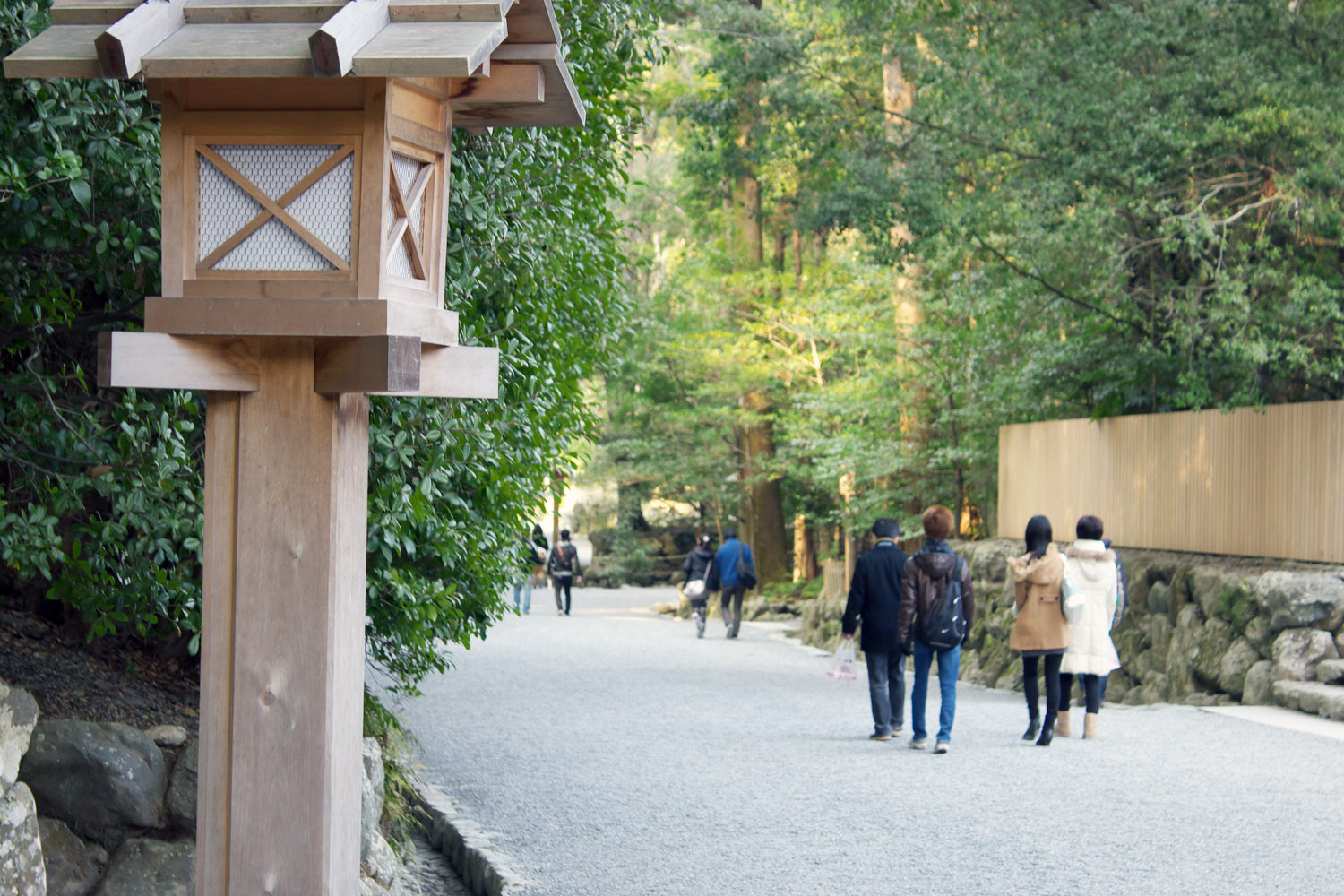 Now is the perfect time to take a brief look at one of the unique customs of Ise Grand Shrine, the anniversary year shrine removal. The custom that occurs once every 20 years involves rebuilding a new dwelling place for the gods and helping them move into their new shrine. This process takes place over the course of eight years, and is accompanied by over 30 festivals and events.
Ise Grand Shrine is an endless source of interest, whether it's questions about the individual shrines such as where they get the wood used to make them, what species of trees are used, how the wood is transported, or what architectural style is used to build them. It's also fun to compare the differences between the inner and outer shrines. The more you learn, the more you begin to see the shrines differently, with seeing the aspects of the shrine grow more profound over the 20 years until the next rebuilding being just another way to enjoy them. Perhaps this is the reason why Ise Grand Shrine gets so many repeat visitors.
---
Fun Oharai-machi lined with shops on both sides
Located directly in front of the inner shrine, Oharai-machi is a neighborhood of many charming shops built along a bustling road full of energy that continues for 800 meters beside the Isuzu River. During the Edo period, this neighborhood was home to the manses of many "onshi", or priests who traveled amongst the shrines and believers throughout Japan. It earned the name Oharai-machi due to the way these onshi priests conducted purification ceremonies and prayers through chanting and dance in place of shrines.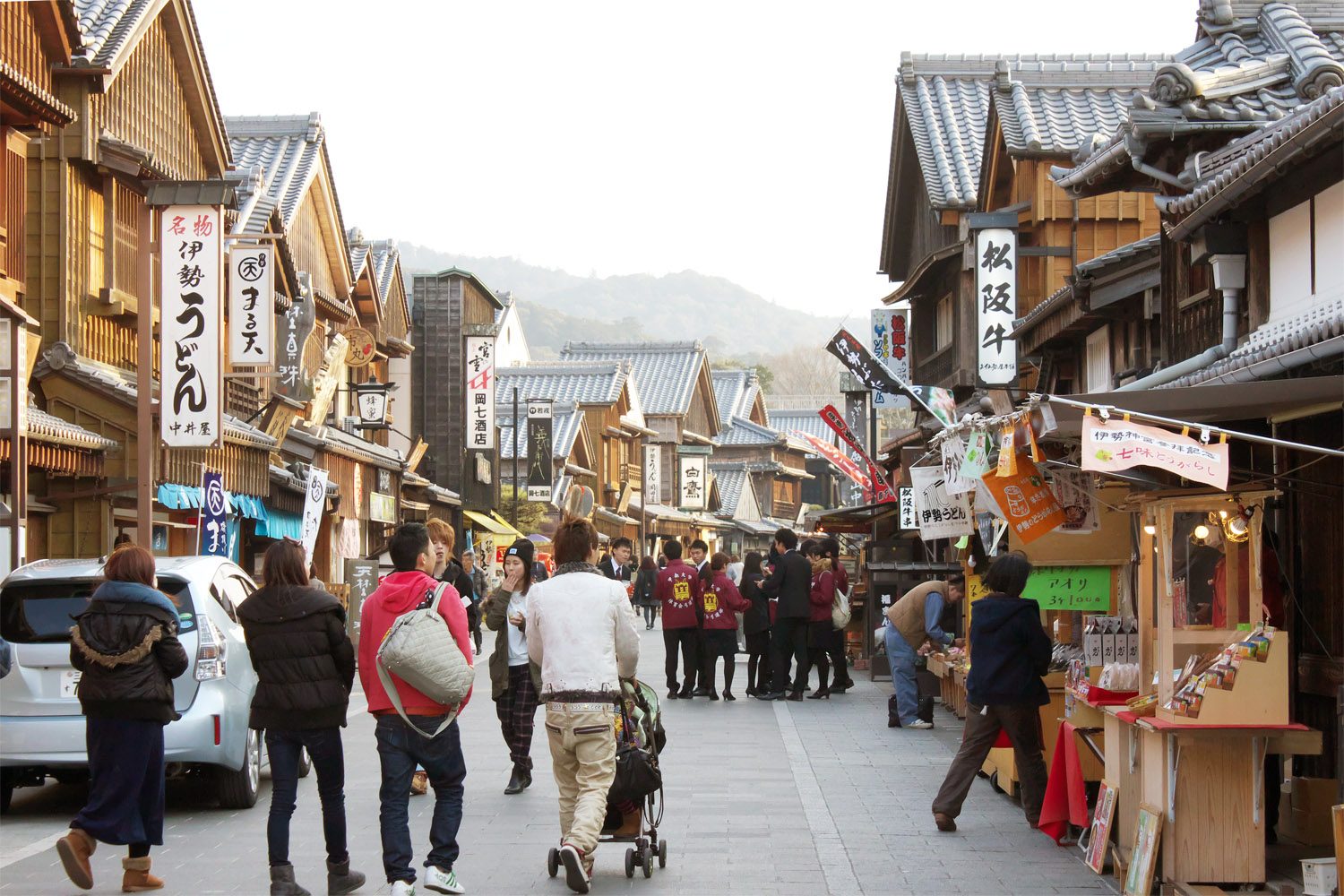 Oharai-machi was a lively place full of restaurants, souvenir shops, and many people. Time passed in the blink of an eye as we strolled along peeking into Kumihimo Hirai, a shop specializing in the traditional craft of Iga braided cords, Momenya Ai, a shop carrying products Matsuzaka cotton, picking up some souvenirs at Toraya Uiro, where you can get Ise's famed uiro, a steamed pastry with topped with rice flour or sugar that is known for its springy texture, and playing with Ise's famed toys like the stacked Daruma game, kendama, and koma.
Along the way we bought some "rikyuu manjuu", a famous confection from Ise, and each tried a bite. It's easy to stop for snacks like this while traveling with friends, with part of the enjoyment being that they also make for great memories. Oharai-machi is a great place to take some architecture styles unique to the area, and even the post offices, convenience stores, and banks have been built to blend in so they don't detract from their surroundings. Trying to find them while walking around is fun in and of itself.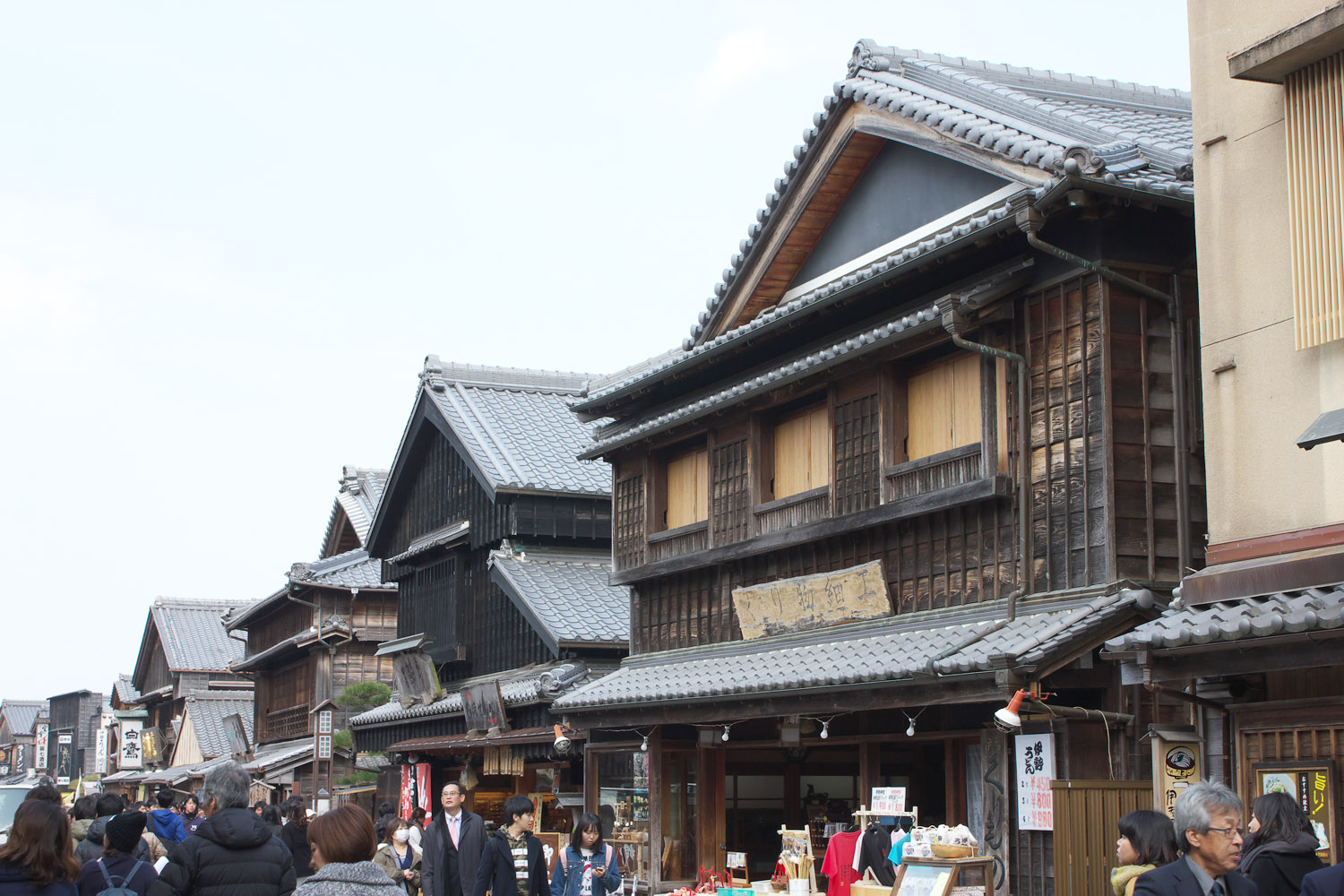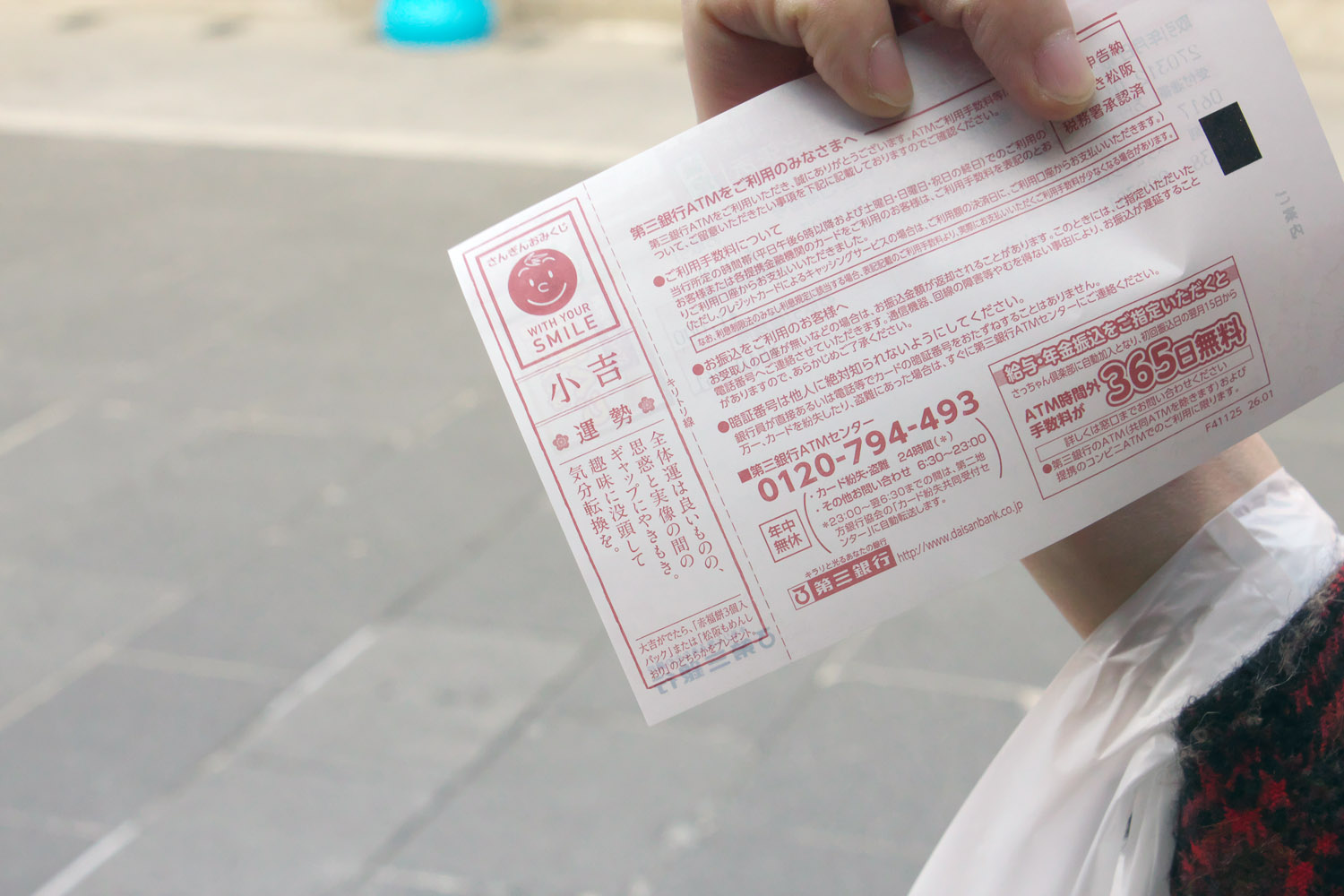 Right in the center of Oharai-machi you will find the lively Okage Alley. It, too, is full of shops selling local specialties, crafts, and souvenirs.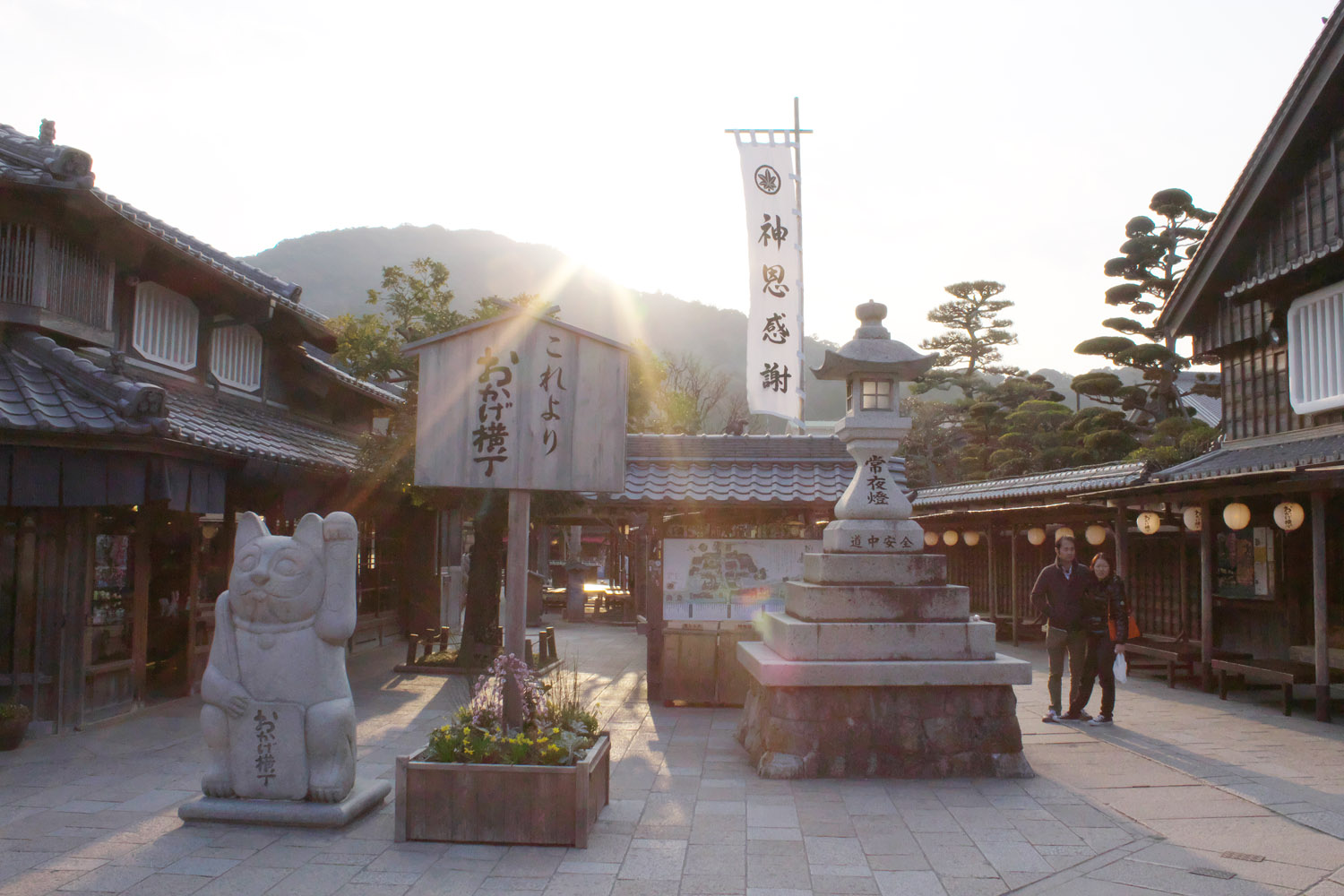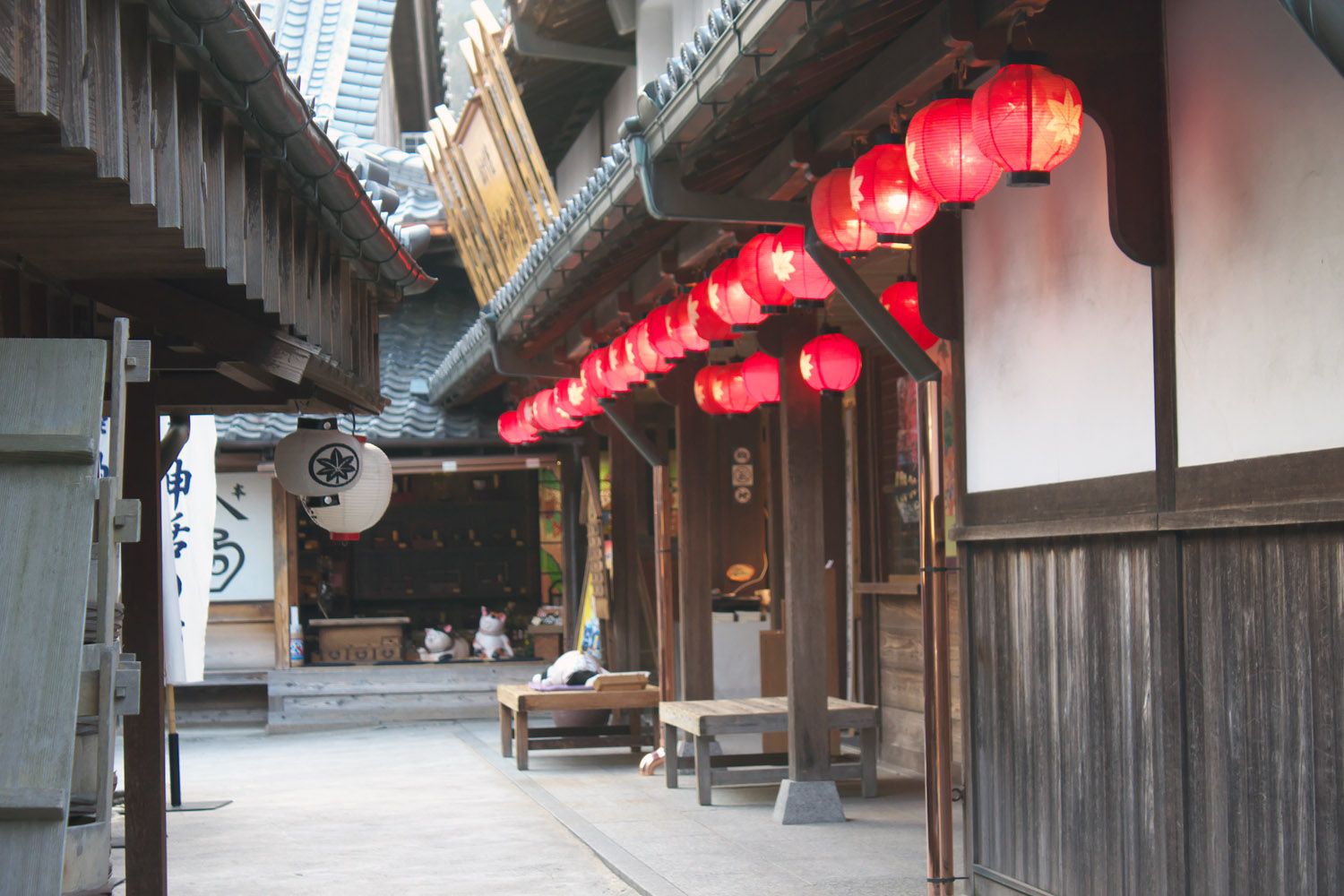 When we went to Mie Gyoren Hanbai, a shop specializing in seaweed, looking for aosa nori, the shopkeeper told us, "Mie produces the most seaweed in all of Japan, around 60%. It's mostly for use in miso soup, but it's also tasty if you squeeze it out a bit then serve it in kakiage (mixed tempura of seafood and vegetables).
At Ise Shoyu Honpo, we found Ise soy sauce made using only local beans and wheat from Mie Prefecture. Upon sampling a bit, we found it to have a strong fragrance with a mild, balanced flavor that isn't too salty. We decided to pick up a small bottle as a souvenir.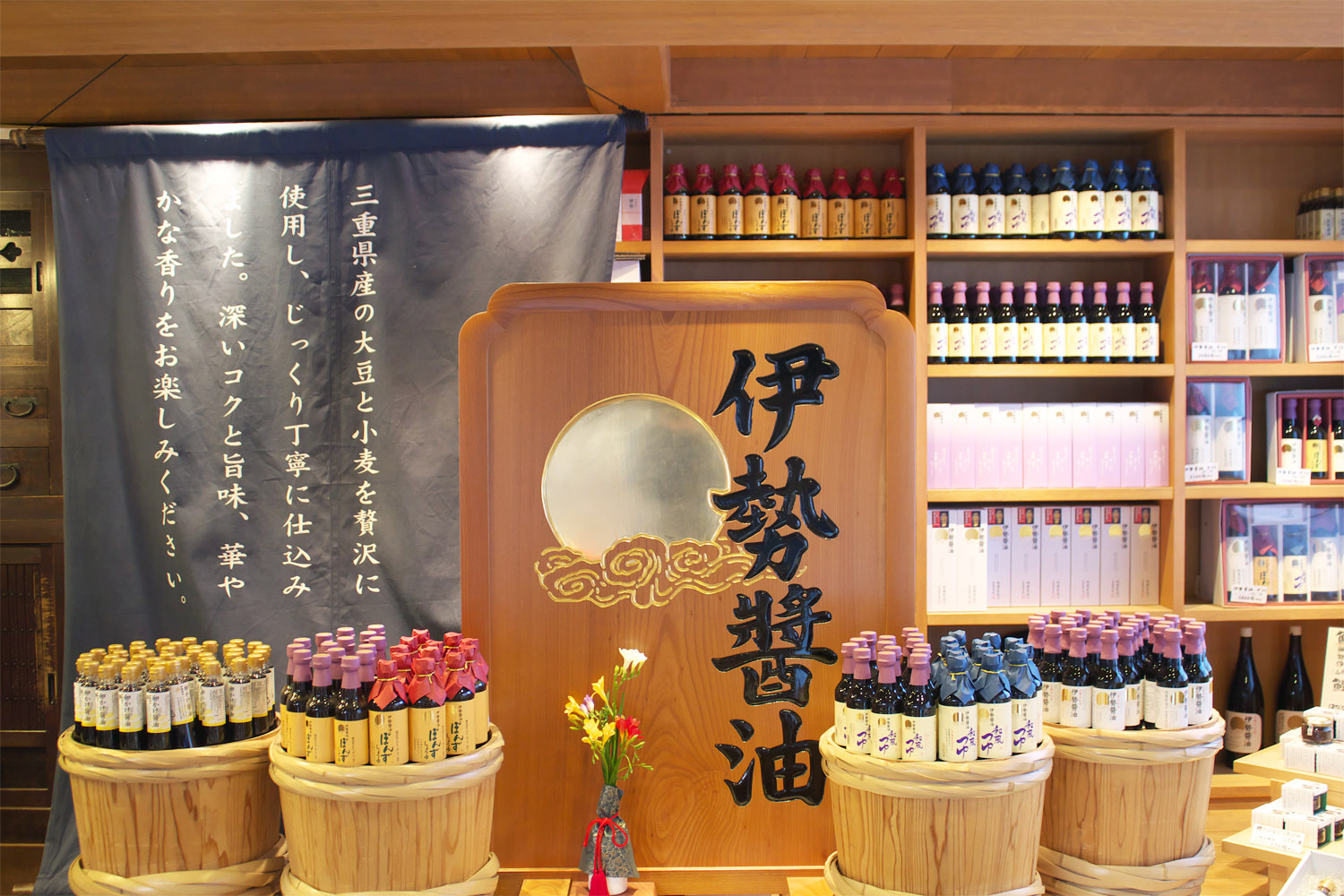 ---
Ise specialties for lunch and snacks;
locals recommended eateries for dinner.

Food is one of the best parts of traveling. For lunch we headed to Sushikyu, a tekone sushi (hand-stirred sushi) restaurant located right in the middle of Oharai-machi. Tekone sushi is a type of cuisine native to Ise. Its name apparently originates in the way local fishermen used to prepare katsuo they had just caught right on the boat and then add shoyu to the rice and fish, which they would then mix by hand.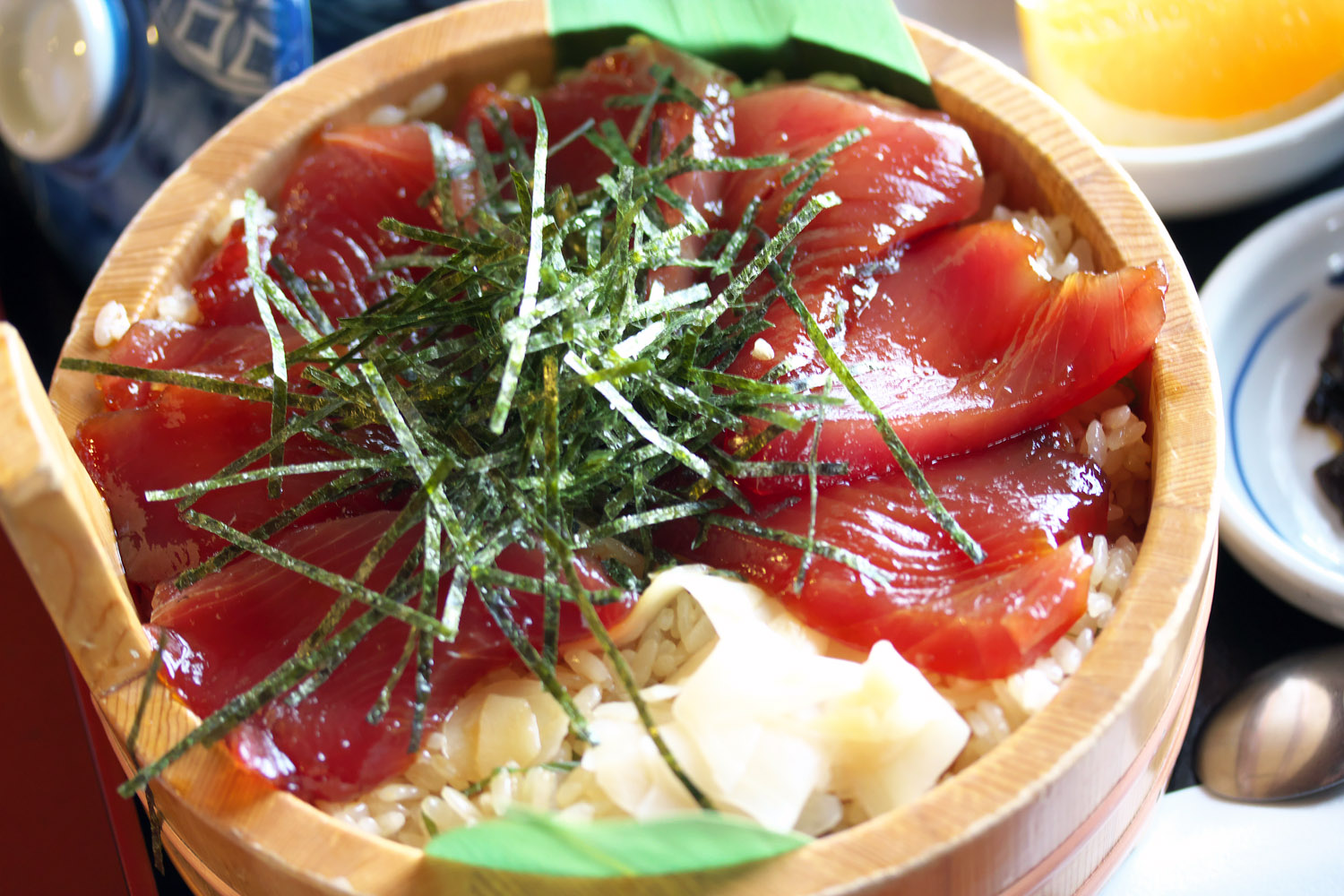 While it goes without saying that the food tastes wonderful, Sushikyu also piques the interest with its distinctive building. Perhaps the reason for this is that it was made using old materials from Ujihashi Bridge when it underwent its 20-year rebuilding in 1869. The sense of history really welled up as we imagined that we might be walking on flooring made from planks from the original bridge.
For a snack we popped by the original Akafuku, which is located in Ise, where we sampled some of their winter-only Akafuku zenzai (soup made with Azuki beans).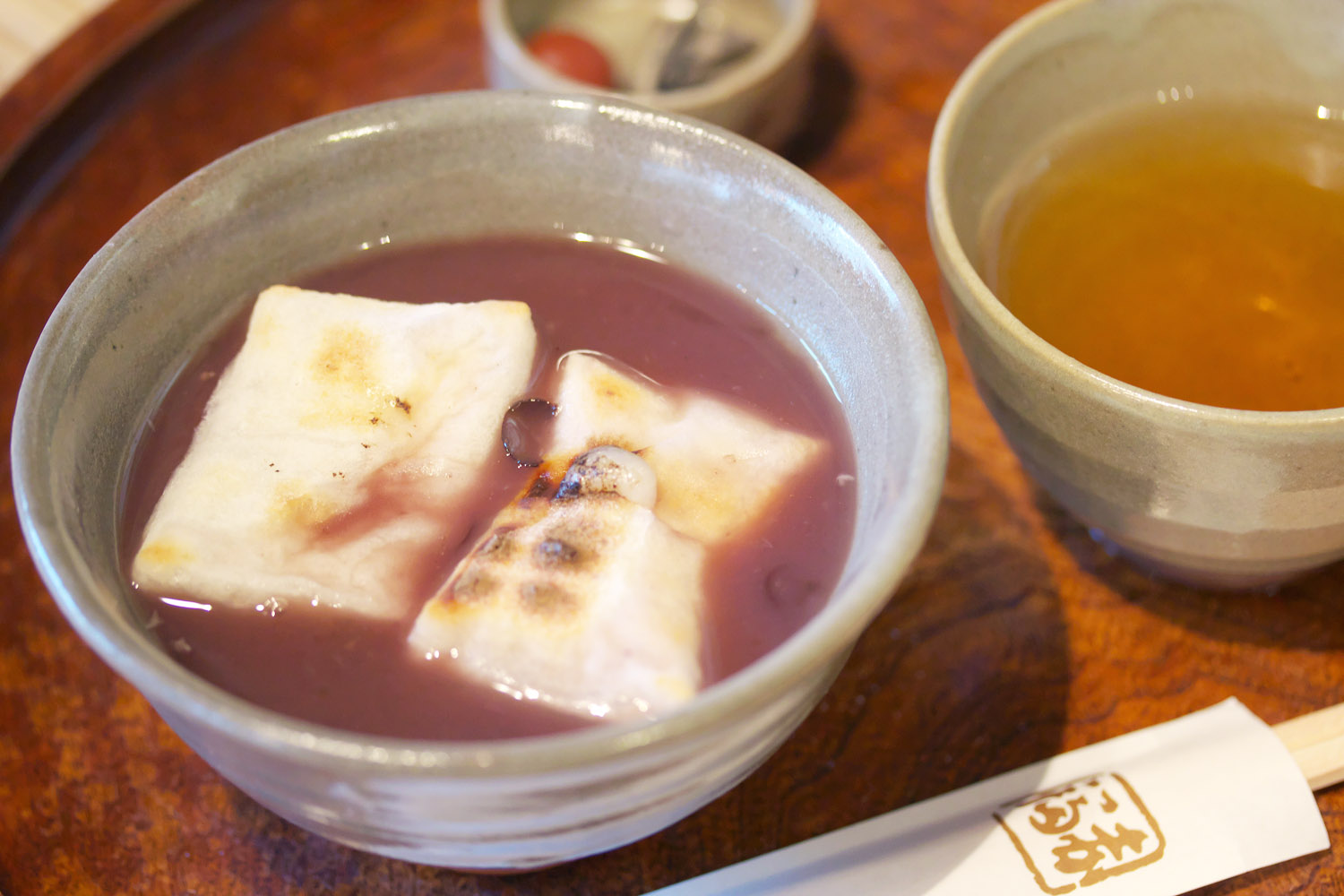 By the way, did you know that Akafuku has "tsuitachi mochi" that you can only get once a month? There is a custom in Ise called "tsuitachi mairi" (first of the month worship), which involves visiting shrines on the first day of the month, and this is why Akafuku offers this mochi only on the first. The lineup changes every month, so there are twelve varieties in total. We told that the locals apparently all have their favorite months, to the point that they have to hand out numbered tickets to the thousands of people lining up along the Isuzu River.
For dinner we went to Yamato Ankuro Ishi, a restaurant serving delicious Japanese fish cuisine that was recommended by our taxi driver. If you're not with many people, then we suggest sitting at the counter, mainly because it will give you the chance to make friends with the witty head chef. We were seated there by chance, so we had a good time chatting with him while we feasted on some tasty food.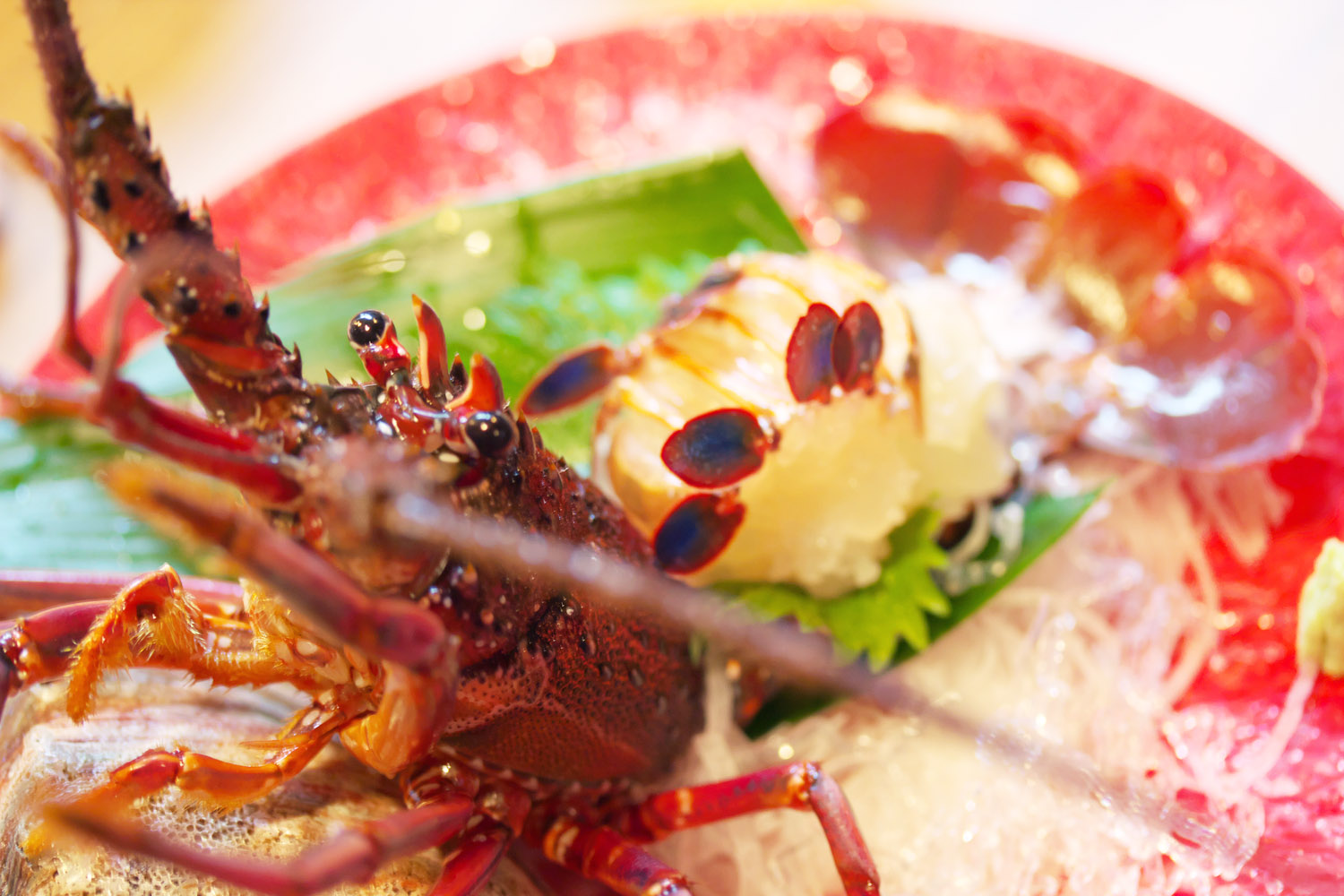 With closing time rolling around, we stood up to say our goodbyes only to have the chef offer to give us a lift to our hotel. His kindness was greatly appreciated, and when expressed our thanks in the car he said, "If this kindness makes you happy, then do the same for someone else next time." A very cool response. Being able to make a friend like by coming to eat at a restaurant is an irreplaceable pleasure, and needless to say reaffirmed our belief that the best part of traveling is interacting with the locals.
---
Sights and other spots to visit in Ise
One of the most popular destinations in Ise is Matsuo Kannon-ji. Said to be the oldest Kannon temple for warding off misfortune in Japan, Matsuoka Kannon-ji is also famed for the dragon-king legend, which states that if the temple is in peril male and female dragons will appear from the pond behind the temple to aid Kannon.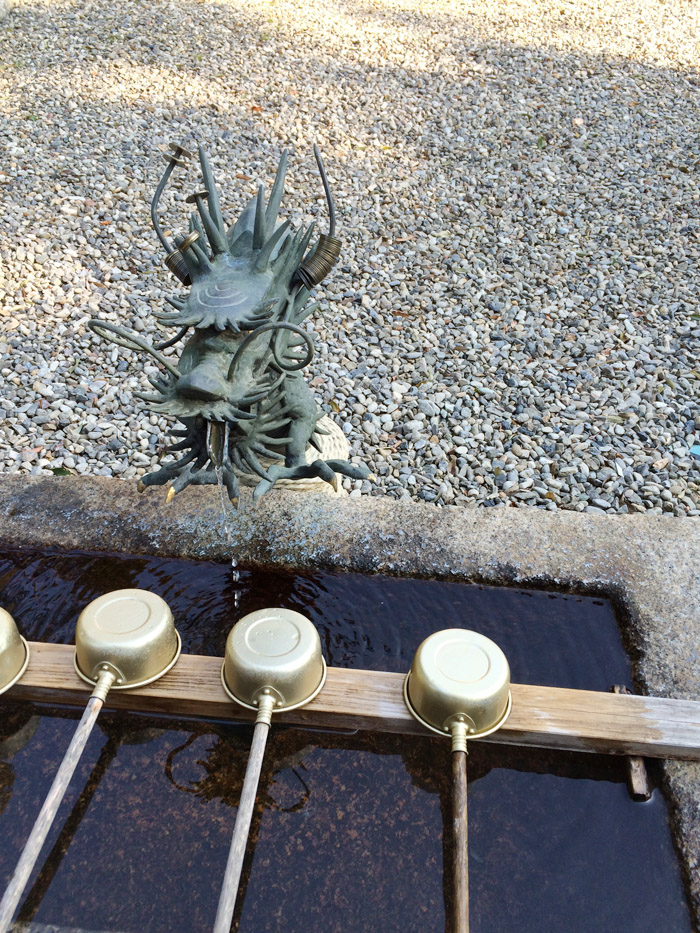 We came to this temple because we wanted to check out a strange phenomenon, namely the face of the dragon that can be seen in the floor of the main temple. We found the fabled dragon by turning right and looking down at the floorboards after paying our respects.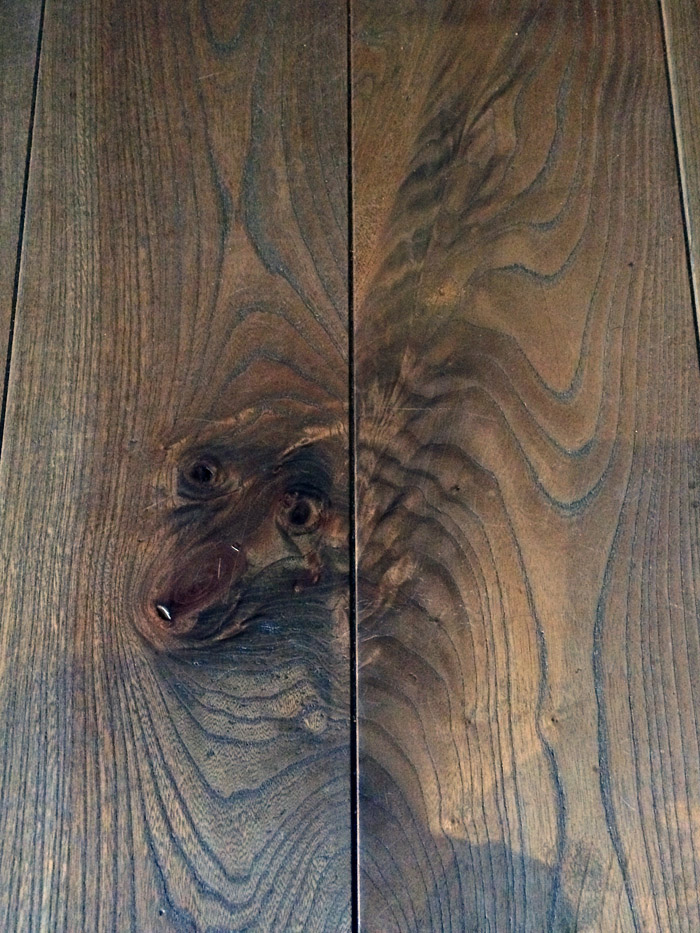 As one of the temple staff puts it, "Some people wonder if it isn't bad to step on it, but I think there is a message in why it appeared in the floorboards, like 'let's maintain a proper standing in life', or 'walk your own path'. That's why I'm sure the dragon forgives people for stepping on it unknowingly."
If you're up to make a little detour, then you can't go wrong with the scenery of the Kawasaki neighborhood. Kawasaki was once full of wholesalers who use the current of the Seta River that flows through Ise City and used to be quite the bustling area. Traces of this past can still be seen today in the old warehouses found here and there.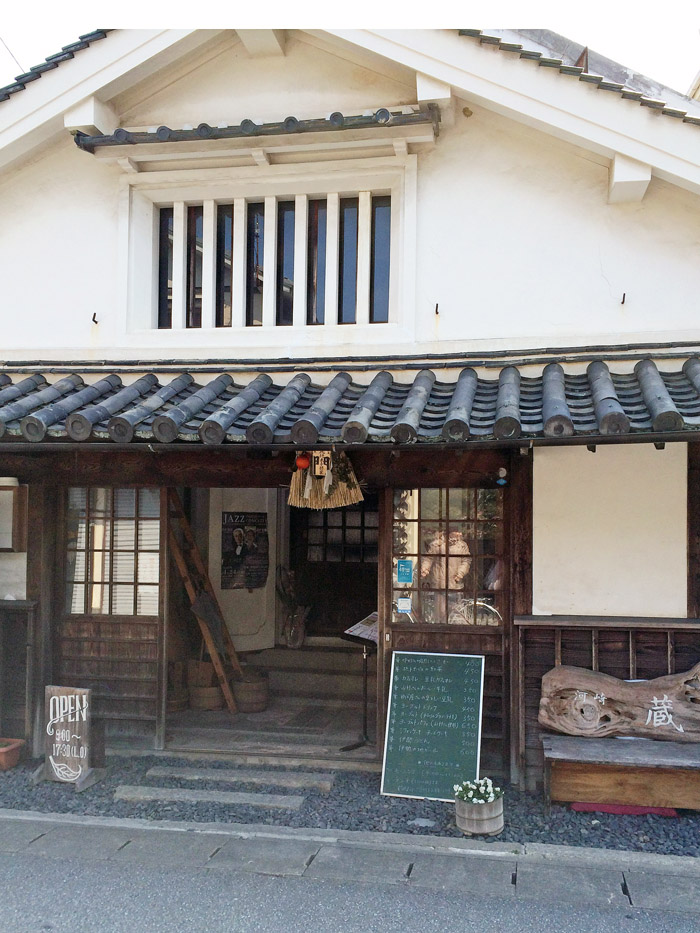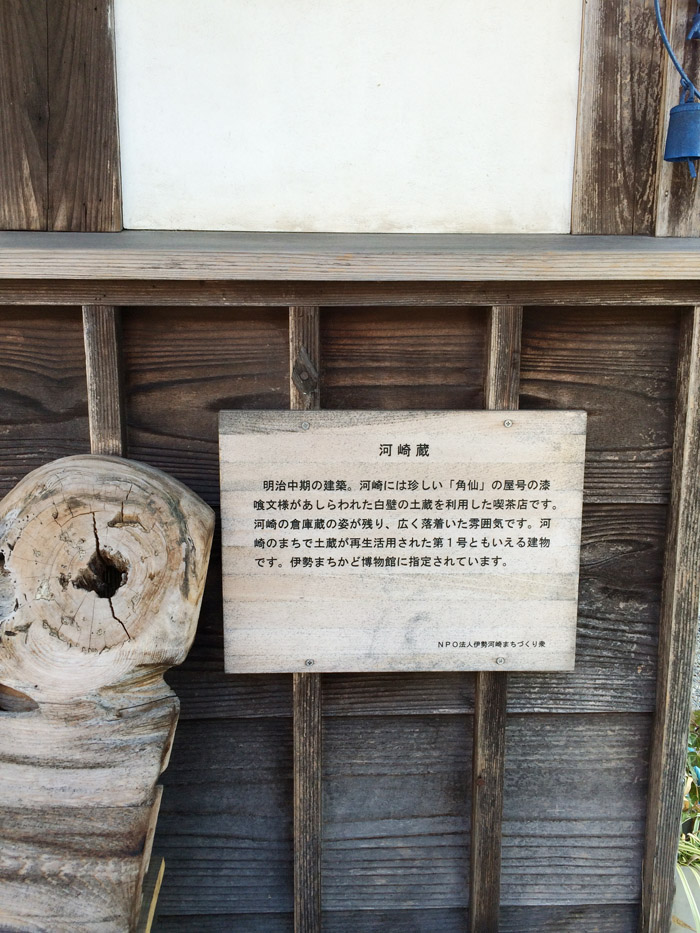 A local woman stopped us suddenly while we were in Kawasaki. The founder of her family was apparently a rice wholesaler, and she still lives in the main wing of a house built in the Meiji period. When we decided to ask her about the shimenawa rope decorations out front of many houses that had caught our eye, she told use the following:
"It may seem odd that the decorations are still up even though New Years is over, but this is a customary practice around here. We replace the decorations at the end of December, and then leave them up for the rest of the year. We put them up to ward off misfortune and ask for perfect health and family safety.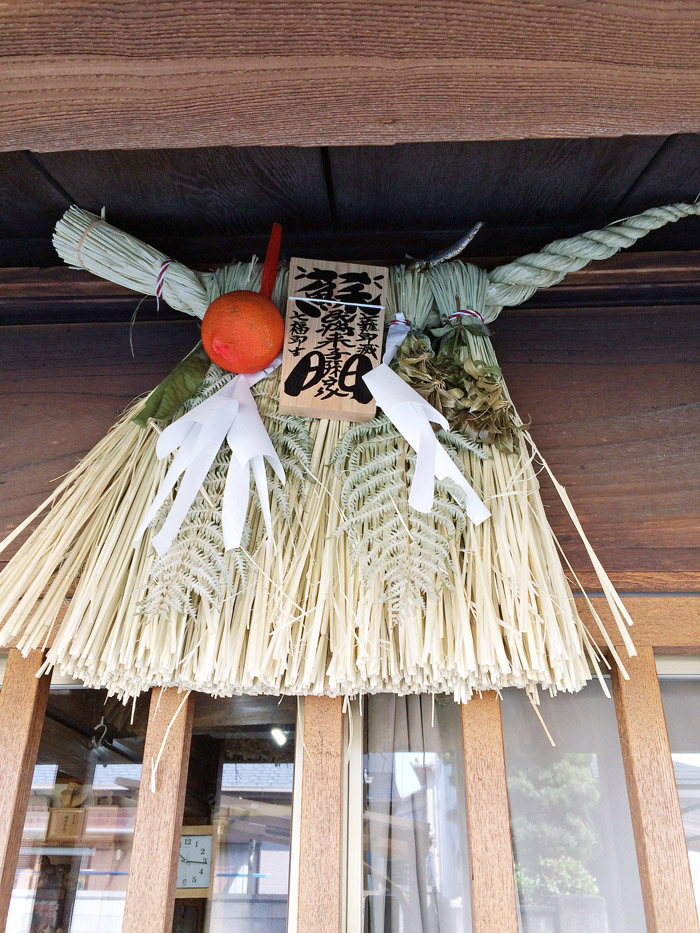 After we finished speaking to the woman, a man passing by on his bike offered to show us around. It seems like Ise is just full of friendly people. He recommended that we visit Harita-ya, a "really old" confectionary. He told us that the wrapping paper they use is very nice, and recommended that we get some. So we bought some scrumptious-looking Japanese sweets and got a piece of wrapping paper. It was a beautiful light purple hue with a map of Ise during the Edo period drawn upon it in gold.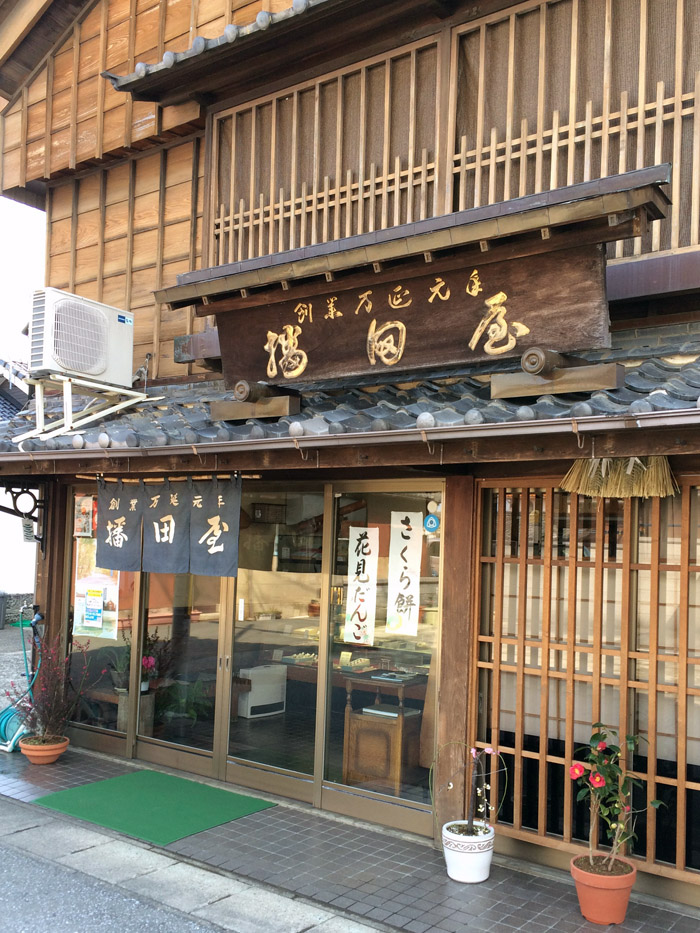 When we asked our guide to recommend a must-see shop in Kawasaki, his answer was Wagu-ya, a porcelain-maker. According to the sign out front, the main house and warehouse were built in 1757. "That's more than 250 years ago. Pretty incredible, right? It was around before America was even founded." We couldn't help but nod in agreement.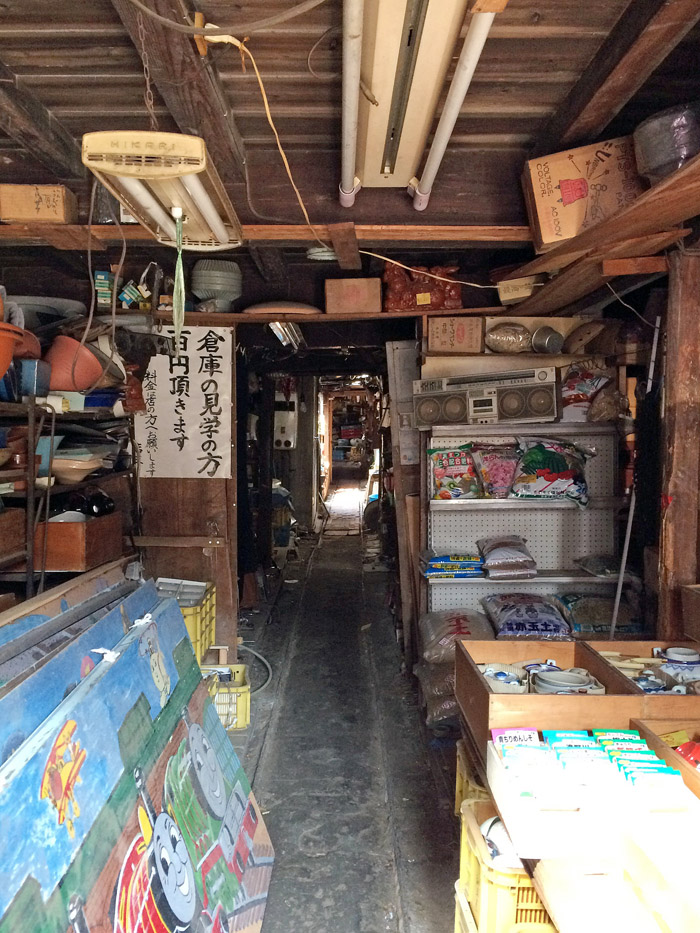 ---
Travel Tips for Ise
Use your time carefully while visiting the upper and lower shrines
Seeing everything at both the upper and lower shrines can take quite a long time, so if you're on a tight schedule you'll need to keep an eye on your watch as you explore.
Get a guide to show you around the upper and lower shrines
You'll probably notice people wearing happi coats with "Ise Tour Guide" written on them while walking around the shrines. If you take advantage of this guide service you can find out knew things, ask questions, see things you might not notice going around on your own, so it's quite nice. It's also free, and there are some guides who can help visitors from abroad, too.
Businesses in Oharai-machi shut down in the evening
Shops in the Oharai-machi are gradually begin closing their doors for the day at around 4:30 in the afternoon, with pretty much everything closed down by the time 5:30 rolls around (or 6pm during the summer peak in August and September). Time passes quickly if you spend time carefully checking everything out, so it's best to have a plan in mind while you walk around so you don't miss out on anything purchases you might want to make.
Stay for 2 days, 1 night, or 3 days, 2 nights
If you only plan on exploring Ise Grand Shrine and the surrounding area then a two-day, one night stay will be more than enough. If you want to go around to some of the other temples or shrines and spend time checking each and every one out, we recommend adding another night to your stay, or at least catching a later train or shinkansen home.