A contextual online store all about Japanese Iki*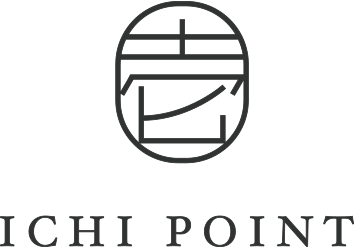 NIJISONG Awaji Brooch - Beige gold -
Sold Out
A brooch gathered with happiness and pieces
One of the charming points of "NIJISONG" is the brooch has a  meaning of happiness and peace wished in to it.
4 Awaji knot and cotton pearl, satin ribbons makes the design pretty.
The satin of the thread glows elegantly, and will decorate your chest gorgeously and feminine.
As a simple point of to your wearing.
In addition, you can use it for various occasions such as wedding ceremonies and entrance ceremonies / graduation ceremonies and others.
It is very light, so it is also a nice point to be able to use it without being pulled even with clothes with very thin materials.
There is a clip included in addition to the pins, you can attach it to a bag, try it as a hair accessory, and even try using it as a clasp, you can enjoy many fashionable various ways.
With a brooch filled with happiness and peace,make your daily life a little more happier.
Handmade's unique warmth will gently suit your hands.
Handmade accessories with thought put into.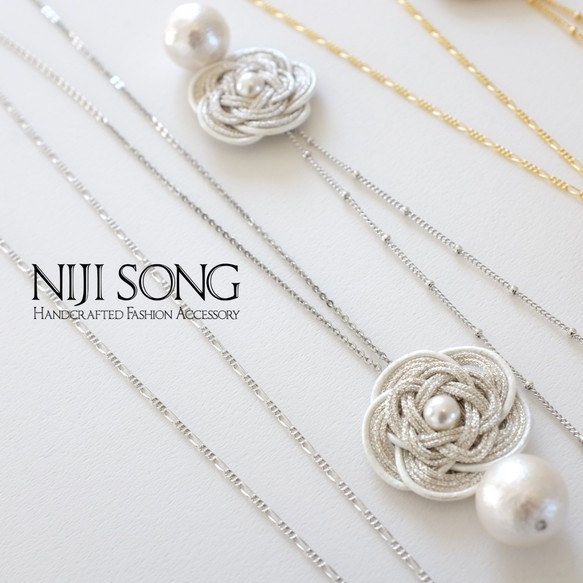 NIJISONG designer called NIJISONG was born in Korea and brought up in Japan.
She spent her college years in Seoul, Atlanta and London.
Feeling many cultures in various countries,
"Can I create something new with my own hands?"
"NIJISONG" It came from such a thought.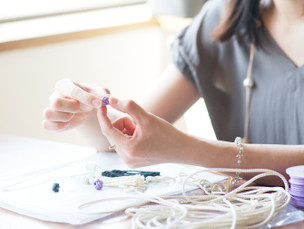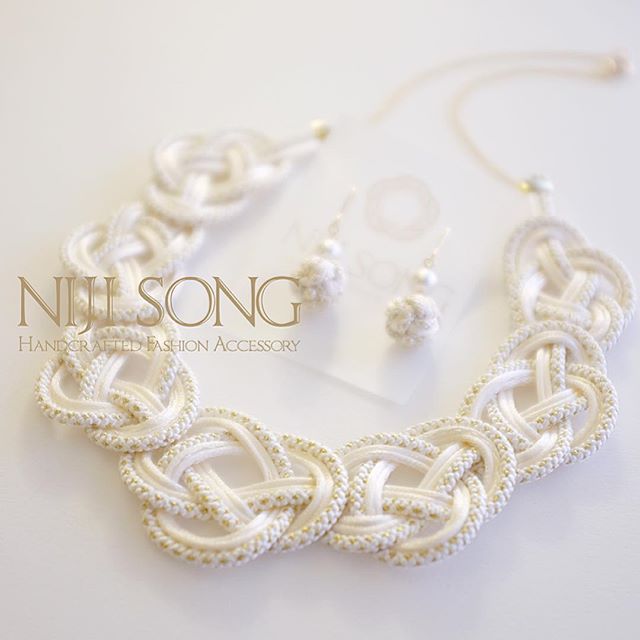 NIJISONG's accessories are design presence and luxury but with a  soft and feminine impression.
Accessories made using traditional crafts of Korea and Japan which is also my roots to have dignified beauty and kindness that reminds you of an adult woman.
Works of  NIJISONG with cuteness and beauty.
She wishes for others' happiness and peace.
It is an accessory with such a wonderful feeling.
It is a perfect gift for your important family,friends and partners.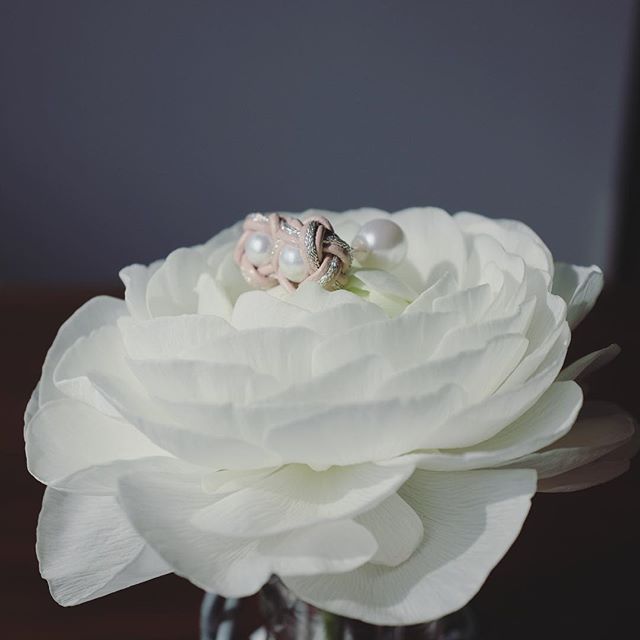 Product Details
Size: 50 mm × 50 mm
Material: Gold thread cord, satin cord, cotton pearl, plating (pin, clip)
Notes
· Because of handmade, size has some individual differences.
If you would like it to be rapped, please leave a note and we would do the best to correspond.
| | |
| --- | --- |
| Weight: | 0.03 kg |
| Dimensions: | 9 × 7 × 2.5 cm |
| バリエーション: | gold-beige |
NIJISONG
Awaji Brooch - Beige gold -
壱ポイントをご利用頂いているお客様にレビューを頂きました。